F-16C Block 52M Fighting Falcon of 335 'Tigris' Mira (Squadron) based at Araxos touching down at the end of a challenging mission.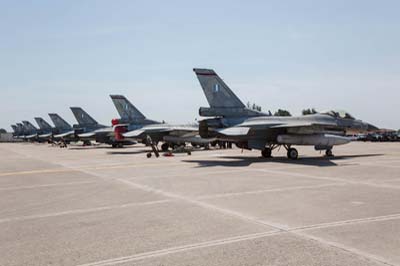 The HAF F-16 Fighting Falcon ramp ready to go.

Each day two waves (A and B) of aircraft flew missions three hours apart, followed by a side mission comprising of around six HAF, IAF and USAF jets. Wave C lifted off at 21:00 for the start of extensive night flying operations followed later by another side mission. Blue air were assigned numerous targets to attack, initially airfields but moving later during the exercise on to command and control targets plus vehicles, bridges and mobile missile batteries all of which were defended by a very capable red air contingent often operating from bases nearer to the target, in all 700 plus day and night intense sorties were flown over the ten days of the exercise which ran between April 4 and 14.

Lt Col Matt Hund commander of the 492nd Fighter Squadron said; "Iniohos provides an opportunity for the U.S., Greece and Israel, as partners, to hone their operational skills and continues to promote peace and stability throughout their respective regions", adding "We get to look at specific training that meets our needs for the United States, but we also get to train with our allies. Any time we have the chance to get better, to learn from and teach our allies, is a great opportunity."

It is anticipated that next year's Iniohos exercise already in the planning stage will introduce yet another air force in the complex scenarios thereby increasing the quality of the training and cooperation between nations.