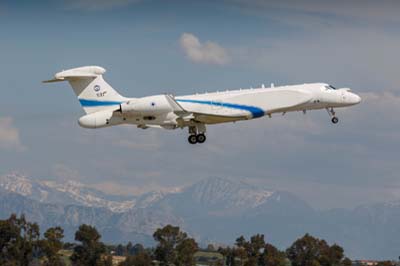 Israeli Air Force Gulfstream Aerospace G-V-SP Gulfstream G550 Nachshon 'Eitam' (537) Conformal Airborne Early Warning (CAEW).
United Arab Emirates Air Force F-16E Block 60 Desert Falcon with 1st and 2nd Shaheen Squadrons based at Al Dhafra. This aircraft is reputed to be the most advanced F-16 variant flying.

The complex missions involved three waves of aircraft taking off in the morning, afternoon and some evenings flying a range of missions including; Ground strikes against ranges to the north and south of Greece, counter-air, fighter sweep, time-sensitive targeting and suppression of enemy air defence (SEAD). Combat search and rescue (CSAR) missions were flown with units of the Hellenic Army with Italian AMX tasked to provide close air support (CAS). Anti-shipping missions were flown against Hellenic Navy shipping.

Day 1 / Mission 1 'Interdiction of Air Defence System (IADS) involved 132 aircraft flying to attack and degrade targets on the eastern cost of Greece defended by Hawk, Velos and Patriot ground to air missile defence systems. 70 fighter aircraft and a UAV 'Pegasus' and EMB-145 (AEW) were prided by the HAF and eight AH-64 Apache by the Hellenic Army. The remaining COMAO forces was made up of USAF, UAE and Israeli F-16s and Italian AMX.

Day 2/ Mission 2 involved attacking airfields in southern Greece, this time utilising a force of 124 aircraft. Each day the scenario and the missions changed. Under KEAT is the Tactical Weapons School (Scholio Oplon Taktikis - SOT) their resident instructors are on hand to assist participating pilots with their mission planning and tactics. SOT instructors will also act as 'red air' flying missions alongside HAF Mirage 2000 and F-16 aircraft based elsewhere to add confusion to an already complex situation.

Israel Air Force once again for Iniohos flew their Gulfstream Aerospace G-V-SP Gulfstream G550 Nachshon 'Eitam' Conformal Airborne Early Warning (CAEW) as their 'eye in the sky' and during the exercise provided airborne air traffic control. The Nachshon is with 122 Squadron 'The Dakota Squadron' and based at Nevatim air base. It is fitted with the Israel Aerospace Industries/Elta EL/W-2085 multi-band phased array radar providing 360 degree coverage combined with advanced electronic support measures, electronic intelligence and communications intelligence suite. False or 'spoofing' information broadcast from the AEW&C aircraft is designed to confuse pilots who already have much to contend with when engaging their opponents.

With expertise, hardware, terrain and air space for all types of challenging mission scenarios the Hellenic military are offering a very valuable resource for nations invited to take up the challenge of the Iniohos exercise as it goes from strength to strength each year.