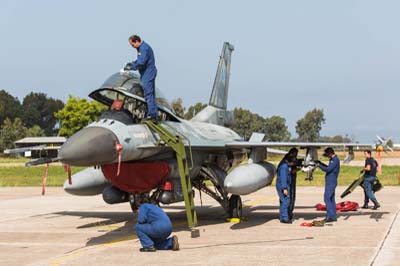 The groundcrew descend on this recently returned F-16D Block 50 Fighting Falcon (081) as soon as its has been made safe and the engine are shut down. This jet belongs to 111 Wing and normally based at Néa Anghialos.

Around 35 students are carefully selected and originate from almost every combat specialty drawn from across all the frontline squadrons. They will have above average experience, "We don't just want good pilots to attend we want good character, good teachers with good knowledge", Lt Col Bontzios revealed.

The students bring their own aircraft, as KEAT does not have its own assigned aircraft. At least one combat aircraft of each type is temporarily based at Andravida for the duration of the practical flying element of the course, that is; Mirage 2000 and 2000-5, F-4E and RF-4E Phantom and F-16C/D Block 30, 50, 52+ and 52M Fighting Falcons. The assembled flight consists of between 18 and 20 aircraft. The SOT can call upon all parts of the military that fulfil a role to enhance the quality of the training. Col Bontzios said, "DACT [dissimilar air combat training] has a key role because every mission has a multi-role aspect".

KEAT shares Andravida with 117 Combat Wing which comprises two squadrons (338 Mira and 339 Mira) which fly the McDonnell Douglas F-4E(AUP) Phantom II and are frequently called upon to provide aircraft and pilots for the course. Lt Col Theodoros Aivaliotis the current 338 Squadron Commander has 2000 hours on the F-4E. He attended the SOT course of 2002 and described his experience, "At that time we did not have AMRAAM [Advanced Medium-Range Air-to-Air Missile] so it was astonishing to see what F-16s could do with this missile, now we are part of this game". The Hellenic F-4E(AUP) Phantom was converted to use AMRAAM just after that 2002 course.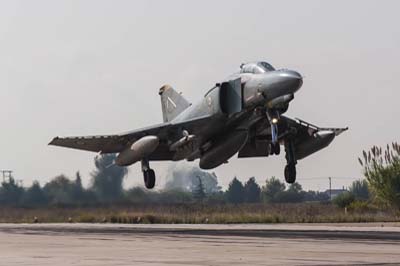 F-4E(AUP) Phantom II (01524) in the colours of 338 Mira is about to touch down at the southern end of Andravida's runway and the end of its sortie.

Large formations
Col Aivaliotis selected on of his pilots for this years course based on his capabilities, experience and how he wanted to use him after his graduation. "He will come back with knowledge of working with other pilots from other squadrons and how other pilots react to situations and the planning of COMAOs [Composite Air Operation]", said Col Aivaliotis. A two week COMAO course element is used to prepare the pilots to become mission commanders to assist with planning and theoretical execution. A COMAO can consist of 16 to 20 or more aircraft and are typically used to mount a full scale attack on another squadron or wing. For COMAO mission planning students work as a team, there is not the latitude to work individually, flight safety is important to ensure there is aircraft de-confliction.


Tanagra based Mirage 2000EG (215) with 332 Squadron, 114 Wing were used as 'Red Air' operating from their home base.

114 Combat Wing at Tanagra operate their Dassault Mirage 2000-5s as 'red air' opponents for many of the air combat scenarios. This year there was an emphasis on anti-shipping with frequent strikes against Hellenic Navy assets defended by Tanagra's Mirage 2000s. Not all missions were flown over the sea often the naval strike missions included low or medium level flights over land defended by GBADs (ground based air defence) explained Col Bontzios. The number of GBADs were increased over those involved in previous years. The aging but still effective VELOS system, a mobile, all-weather, short-range anti-aircraft system with a combination of missiles and guns was also utilised this year.

We will miss the A-7 Corsair
For the first time the venerable A-7E Corsair II was not included in the course as the type was due to be retired from service after 40 years actually during the course. Col Bontzios was obviously sad over the old A-7's absence said, "Its not an old A-7! We love the A-7 here the pilots are experts at low-level flying and strike missions, we are going to miss them", adding "We have more F-16s and F-4s available to replace the A-7s".

The students completing the SOT course graduate as Instructors of the Fighter Weapons School they can go anywhere and perform well at either TLP or Red Flag. Col Bontzios summed up the course, "It is very challenging and demanding, the successful graduate must be able to overcome any tactical challenge, while being able to teach others". International involvement is the next step for KEAT and SOT and already plans have been put forward to Hellenic Air Force headquarters.