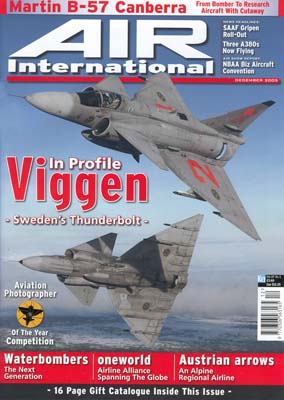 Philip Stevens reports on the Swiss Air Force's annual air power demonstration, which takes place at their spectacular Ebenfluh firing range, high in the Alps, near the summit of the 7614 feet (2321m) high Axalphorn Mountain, in the Bernese Oberland of central Switzerland.

This year the show was repeated over the two planned days of October 12 and 13, in perfect weather conditions. An estimated 2,000 spectators attended on the first day, many having started the 1½ to 2½ hour ascent on foot before dawn. A further 300 VIPs and 30 accredited members of the Press were flown up each day by either an Aérospatiale AS.332M-1 Super Puma (TH-89) or a Eurocopter AS.532UL Cougar (TH-98). A flight of just six minutes from Meiringen air base, some 6,000 feet (1800m) below.
The mornings, from 08:30, were used to rehearse the afternoon's flying demonstrations, which began at 14:00hrs. To the second, the show opened with a Cougar helicopter demonstrating the RUAG Aerospace Integrated Self Protection System (ISSYS), by ejecting 128 flares. Further helicopter displays followed with an Aérospatiale SA.316B Alouette III simulating a mountain rescue, and a pair of Cougars dropping water on to the frozen mountainside, as part of fire-fighting demonstration.