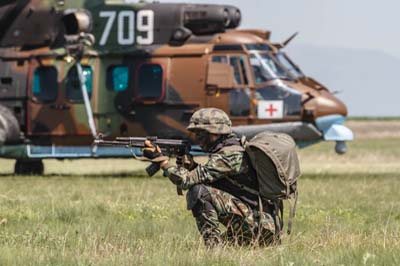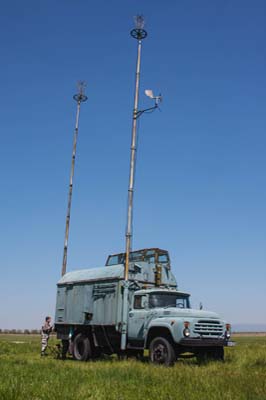 For the Bulgarski Voennovazdyshini Sili - BVVS (Bulgarian Air Force - BuAF) it is important that their standards are maintained and extended, if they are to play their part within NATO.

The BuAF achieved NATO Interoperability with the Eurocopter AS.532UL Cougar for Medical Evacuation (Medevac) duties, following a NATO Forceval assessment of their capabilities in September 2009 during exercise 'Turning Point 09'. As part of ongoing training on April 27, 2010 a short one day exercise was planned, centered on the small airfield at Cherngorovo, a 60 minute drive from Sofia. Its aim was to provide essential training for various elements of the BuAF but essentially to test the personnel of the 2/24 Vertoletna Avio Eskadrila - 2/24VAE (2nd Helicopter Squadron) and their AS.532UL/AL fleet of helicopters which are based at Krumovo air base.

The exercise scenario was an air-to-ground airfield attack where a pilot ejects and has to be recovered from the clutches of hostile ground forces. A Command post was setup at the otherwise deserted Cherngorovo airfield to coordinate aerial forces and ensure all operations were conducted safely. A fire engine was also on hand.

The exercise started at 11:30 with a reconnaissance made by a Pilatus PC-9M from Dolna Mitropolia in northern Bulgaria, which circled the airfield to identify hostile ground forces. A report that a convoy had been identified was passed on to two Sukhoi Su-25K 'Frogfoot' operating from Bezmer Forward Operating Base. At 11:45 the pair of ground attack aircraft made several low-level attacks against simulated convoy and ground to air missile sites, before returning to base, but declaring a simulated pilot ejection.
The Combat Search and Rescue (CSAR) phase started when a grey suited 'airman' appeared at 11:50 when two AS.532AL (709 and 710) arrived to fast-drop troops to encircle the 'downed' pilot. With the pilot located and safely evacuated the troops repelled an attack by a small force of militia. A grey suited young lady with red painted bandages and been walking around the area before the exercise started. Now it was her turn to play a part in the simulated Medevac operation. At 12:13 a AS.532AL returned with a medical team to collect the 'injured' girl. Protected by troops the medical team stretchered her back to the waiting helicopter and they were away with four minutes.
Two AS.532UL (serials 701 and 702) were called in for troop exfiltration to complete the mission and exercise, it was 12:25 and less than an hour since it all started.

Training exercises such as this one are vital to retain a high state of readiness and efficiency. Where some of the simulations are a little theatrical, the procedures themselves were designed to be as accurate as is possible within a training environment.

The Eurocopter AS.532 Cougar in BuAF service
In August 2006 2/24VAE (2nd Helicopter Squadron) started to received their first of 12 new AS.532 helicopters from Eurocopter's plant at Marignane in France. By July 2009 the last helicopter had been delivered to Krumovo. Each aircraft is basically the same, however the first eight AS.532UL (serials 701 to 708) used as utility transports and for Medevac duties and are easily converted for each role. The AS.532UL with a crew of two can carry 29 troops or six injured people on stretchers with ten other medics or passengers. The final four AS.532AL (serials 709 to 712) have been adapted for CSAR operations.