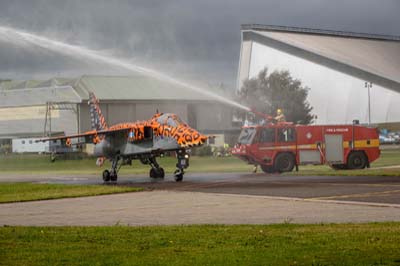 The fire department's final salute.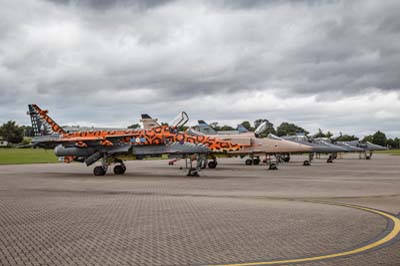 The final line-up.


This was the last day 238 Squadron were able to start up their Jaguar GR.3s for a final spin around RAF Cosford.

The first SEPECAT Jaguar was delivered from the British Aerospace Warton factory in 1974. The type continued in service until 2007 when they were retired. For many of these jets the final flight was to RAF Cosford for 238 Squadron to use as ground instructional airframes. This included starting them up for a quick taxi around the small airfield. From now on they will still be used for instructional duties in the engineering training role but the Big Cat's Adour engine's will no longer be asked to roar in to life.

238 Squadron is part of No.1 School of Technical Training at RAF Cosford with the Defence School of Aeronautical Engineering (DSAE) their ground handling will now be conducted synthetically using simulators. DSAE currently have 61 Jaguars in their care. They should be praised for organising this final event for 150 enthusiasts.