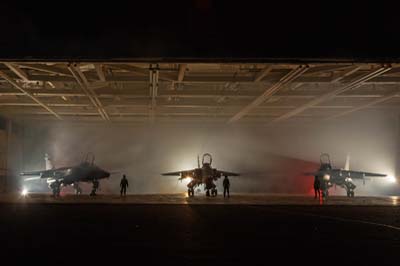 Looking like a film set....


The first SEPECAT Jaguar night shoot since their retirement from active taxiing was organised by Neil Cave (TimeLine Events). He got together with 238 Squadron and 1 SoTT at RAF Cosford to raise £5,000 for the RAF Benevolent Fund charity. Following the wonderful winter sun and sunset shots Neil set up lighting and his smoke generators for some extraordinary scenes with re-enactors and the stars of the show eight SEPECAT Jaguars, there were another two at the back of the hangar which could be shot if you were on the ball.

Special thanks must go to the 238 pilots and ground crew who removed tags and intake shields to enhance the images.