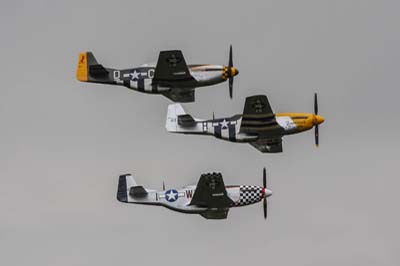 Also new to Legends this year was the first UK appearance by 'The Horsemen', the world's only P-51 Mustang aerobatic team. The three United States based pilots were; Ed Shipley, Jim Beasley and Dan Friedkin, their close formation flying routine was flown with Duxford based P-51's; 'Ferocious Frankie', 'Big Beautiful Doll' and 'Miss Velma'. The experienced consider themselves to be caretakers of history and privileged to fly the Mustang. Ed Shipley said; "Simply by touching this aeroplane you can feel the enormous responsibility that comes with demonstrating it to the public".

For the first time in more than ten years Flying Legends was able to fly two Hawker Fury's. This powerful piston-engine fighter-bomber was in service from 1948 initially with Royal Air Force and Royal Navy (Sea Fury) and later with the Australia, Canada, Netherlands, West Germany, Burma, Iraq, Cuba and India who last flew the Sea Fury in 1973. Two-seat Sea Fury T.20 (WG655) returned in May to the UK after an absence of 20 years following an extensive restoration following a crippling accident due to engine failure close to Yeovilton when with the Royal Navy Historic Flight in 1990. The other Fury FB.11 (F-AZXL '369') resplendent in Royal Australian Navy colours had been imported to France from South Africa in 2007 and was making its debut at the air show. Together these impressive flyers produced a wonderful sight and sound, sweeping low across the airfield.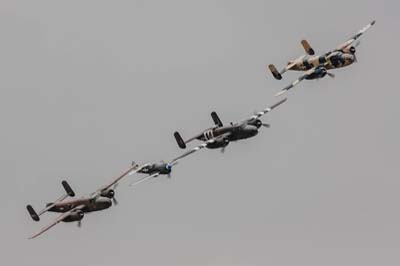 Flying Legends is all about, combinations of formations and tail-chasing routines combining with a number of solo performances. This year's most impressive formation was a trio of B-25 Mitchells; B-25D 'Grumpy' of Vulcan Warbirds, B-25J 'Sarinah'of the RNAF Historic Flight 'Duke of Brabant Air Force' and B-25J of Societe de Developpement et de Promotion de L' Aviation (SDPA) joined by the French based P-40N Kittyhawk 'Little Jeanne'. Appearing for the first time was Beech YC-43 Traveler (N295BS) another aircraft flown by the 'Duke of Brabant Air Force' from Holland.

Once again Flying Legends lived up to all expectations, even despite the absence of most of the TFC fleet in the skies over Duxford. The show continues to thrive, spectators return year after year, set up their pitch and enjoy the visual and audible extravaganza.