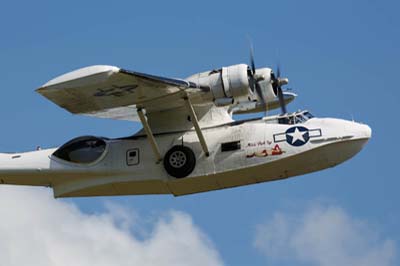 Consolidated PBY-5A Catalina ('433915' G-PBYA now with 'Miss Pick Up' nose art) was bought by Catalina Aircraft Ltd. in 2002 and is based at Duxford and operated by Plane Sailing. It was originally struck off charge from the military in Canada in 1961 after nearly 20 years with the RCAF. It was later converted to a water bomber and was registered as CF-NJF (later C-FNJF). It also operated with the Protection Civile (as F-ZBAY and F-ZBBD) in France, fighting fires during the French summers. By 1974, it had moved on Prince Albert, Saskatchewan with Norcanair for more water bombing duties. By the 1990s the water tanks had been removed and it was carrying passengers.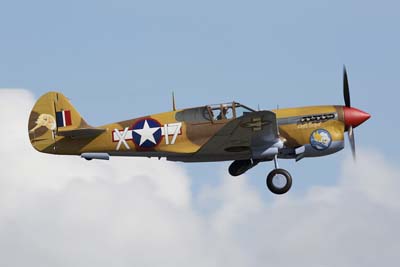 The Fighter Collection's Curtiss P-40 Warhawk (41-19841 / VH-PIV) named 'Lees hope', made its first flight in the UK on the Saturday before last years event. Built in 1942 41-19841 little is known of it's service history it was struck off charge in November 1943 and abandoned on the island of Espiritu Santo which is part of Vanatu in the Pacific. It was recovered in the 1970s and stored in Australia for sometime until restoration was carried out by Precision Aerospace Productions for TFC in the markings of USAAF's 85th Fighter Squadron as flown in Italy during 1944. For this years 'Legends it was sporting 'Lees hope' nose art and and a scantily dressed lady on the starboard rudder.
Show organisers, The Fighter Collection (TFC) staff headed by Stephen Grey with the Imperial War Museum (IWM) have worked out a formula of aerial choreography which has aircraft recovering to the airfield as the next display aircraft is ready to swoop across the airfield, the action flows as a continuous series of themed events.

2012 Flying Program 14:00 to 17:30
Supermarine Spitfires including 3x MK.1 formation, 2x Hispano Buchón and Lockheed P-38 Lightning of Red Bull solo
Vought F4U Corsair and Grumman F-8F Bearcat, Curtiss (Republic) P-47G Thunderbolt, Boeing B-17 Flying Fortress 'Sally-B'
Avro Lancaster B.1 Battle of Britain Memorial Flight with 2x Spitfire (Saturday only)
Junkers Ju-52 and 2x Bücker Bü131 Jungmann
Hawker Sea Fury
2x Curtiss P-40 Warhawks and Curtiss Hawk
2x Hawker Nimrod
Yakovlev Yak-3, Yak-9 and Yak-11
3x North American P-51 Mustangs
Westland Lysander
Sikorsky S-38, Consolidated PBY-5A Catalina
2x Boeing PT-17 Stearman Kaydets Breitling Wing Walkers
Douglas C-53D Skytrooper and 2x Boeing Staggerwing and Fairey Swordfish
Grumman F-8F Bearcat as the 'Joker'
Mass tak-off of most of the participating aircraft for the Balbo formation fly past finale with 21 aircraft this year.