Keeping the E-3 AWACS in the air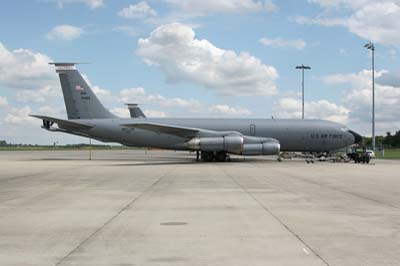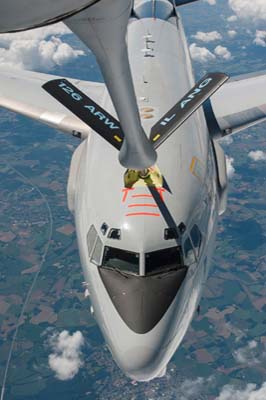 The NATO E-3s missions by their nature are long up to ten hours in duration and can require Air to Air Refuelling (AAR).
A NATO contract is in place for the provision of AAR, the current providers are the Air National Guard (ANG) flying Boeing KC-135E/R Stratotankers. The contract runs over two years and is for 44 weeks of AAR per year. The ANG Liason Officer (ANG/LO) based at Geilenkirchen is responsible for negotiating a fair deal with NATO, by taking into account all mission costs incurred over the previous two years. The current ANG/LO first came over to Geilenkirchen in 1993 when flying with the first ANG tankers. In those days LO's were posted for only 120 days and so there was little continuity. These days LO's are on four year postings, their day to day duties include; mission planning, scheduling and ground logistics.
The various ANG KC-135s deploy to Geilenkirchen for two weeks, during my visit it was the turn of 126th Air Refuelling Wing, 108th Air Refuelling Squadron (126ARW/108ARS) of the Illinois ANG with two KC-135Es. Three crews fly are assigned to the two tankers, the aircraft fly two missions per day, except on Fridays when one mission is flown, to allow one crew to be rotated with the United States. For Lt Col Dale Dortch, Navigator on the KC-135E, "We like the deployment, it enables us to come out to Europe and participate with NATO aircrew as in any other peacetime training operation." Normally flying from Scott Air Force Base in the US mid-west, it is flat and relatively uncongested as compared with European skies. "It is different out here, it is much more crowded making flying our missions more difficult. It is a great opportunity for training to work in different air space."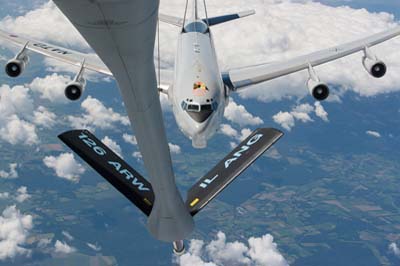 Today's mission in KC-135E (59-1489) callsign 'ESSO 76' was to AAR two NATO E-3As. After spooling up the four CFM56 engines, pilot Capt. Nick Babiak made his way to the end of Geilenkirchen's 10,009 foot (3,050m) runway before throttling up to full power for take-off. Departing to the north we made our way to the narrow AAR track known as 'Kim' which just touches the coast of Germany one of three for AAR tracks in use by the tankers. The co-pilot Capt. Gary Bodony, who described himself as a 'Guard bum', at first make radio contact before maintaining a visual lookout for the receiving E-3. They also have available the Traffic alert and Collision Avoidance System (TACS) which locates the aircraft. The E-3 approaches from 1,000 feet below the tankers altitude, before clearance is given by the Boom Operator, today SmSgt Matt Glover, to come forward to the lowered and extended boom. The 'boomer' maintains radio contact with the receiver throughout the refuelling exercise and is responsible for informing regularly the pilots of the current situation. The first E-3A (LX-N90458) to require gas and using callsign 'NATO 14' took 20,000lbs (9,072kgs) of fuel followed by a second E-3A (LX-N90459) using callsign 'NATO 13' it received 10,000lbs (4,536kgs) of fuel. For this AAR mission the second E-3A requested numerous practice hook-ups with the KC-135, swapping pilots over once the required number had been successfully completed. With both E-3s topped up with gas we return to base.
The KC-135 and the E-3 are derived from the Boeing 707, a 1950s design that is still effectively serving NATO over half a century later, and will continue to do so for many years to come.