Hungary a former member of the Warsaw Pact with a military alliance between all the Eastern Bloc countries, is now a member of NATO. More recently Hungary has become a member of the European Union. In the 'Cold War' years Hungary was operating MiG fast jets and Mil helicopters. But what has happened to those Soviet designed aircraft that were once aligned against NATO? Well they are still very much in evidence, if they are not in open store at one of the few remaining military bases or in some impressive museums, private collections. They can even be found at the side of the road.

It does not take you long to notice that many of the Mikoyan Gurevich MiGs dotted around Hungary have very similar and false serials applied. These serials apparently represent significant dates in Hungarian history.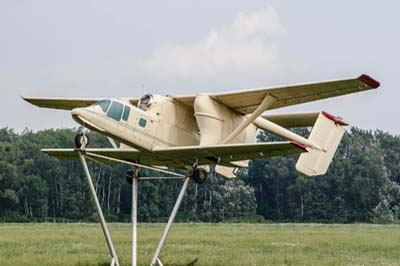 Left: Perhaps one of the oddest looking aircraft to be found at the side of the road. This is a PZL-Mielec M-15 Belphegor (ex CCCP15187) and is located between the town and museum on the outskirts of Szolnok. It was designed in Poland as a AN-2 replacement for agricultural type flying. It has a turbofan jet engine and the type first flew on May 30, 1973. Production ended in 1981 after 120 had been produced.