Unlike the Harrier which was a victim of last years Strategic Defence and Security Review (SDSR) and forced in to retirement to save costs, the Tornado F.3 was already scheduled to be withdrawn following a Ministry of Defence decision made two years ago. With the introduction of the Typhoon the Tornado F.3 fleet which once comprised eight squadrons operating from three air bases, has made way for the superior fighter. On March 14 111(F) Squadron nicknamed 'Tremblers' handed over its Northern Quick Reaction Alert (QRA) duties to the Typhoons of 6 Squadron. They have worked up to the task over since September 2010 at Leuchars. Eventually two further Typhoon squadrons should form at a Scottish air base. For 111(F) their disbandment brings an end to their role of policing the skies over Northern United Kingdom, a task they have fulfilled since 1990. The Squadron had constantly trained to perfect; long range high-level interceptions, aerial combat, strafe and low-level bomber escort while maintaining their QRA responsibilities.

As part of on going aircrew training the Tornado F.3 has taken part in exercises all over the world, including Malaysia, Australia, Middle East and mainland Europe. In 2009 111(F) and 43(F) Squadrons took part in the most demanding of all exercises 'Red Flag' at Nellis Air Force Base in Nevada. As part of a defensive 'Blue Air' unit they achieved a remarkable 12:1 kill ratio, exceeding that of the F-15 Eagle element and against very capable 'Red Air' adversaries.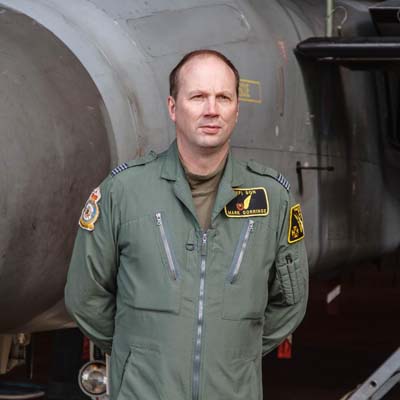 Wing Commander Mark Gorringe, Officer Commanding 111(F) Squadron said; "The Squadron will leave Leuchars with our heads held high. The Northern QRA role is a critical defence task and represents a fitting end to this chapter of the Squadron's illustrious history ahead of our honourable disbandment." During their 21 years at Leuchars 111(F) Squadron and the Tornado F.3 has deployed to the Middle East and Bosnia in support of UK and NATO operations. As 1435 Flight they have also regularly operated from the Falkland Islands since 1992 to meet the QRA requirement in the South Atlantic, a task which was taken over by Typhoons in 2009. Wg Cdr Gorringe added; "On behalf of the Squadron, I would like to thank the many sections across RAF Leuchars whose work makes effective QRA possible; it is a true team effort. We also recognise the important support we have had from the local community."
With the planned additional two squadrons of Typhoon's for Leuchars it is possible that it is not the end for 111 Squadron and they will reform. Wg Cdr Gorringe, said "111 has disbanded before and has come back each time, so I remain hopeful."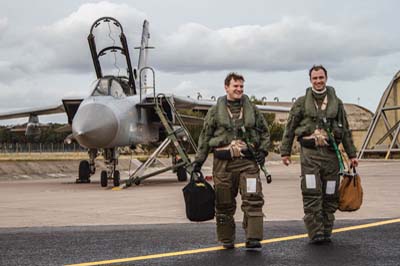 The Panavia Tornado F.2 (ADV) later upgraded to F.3 standard was developed from the Tornado GR.1 (later GR.4) ground attack aircraft, 170 were delivered from the mid 1980s. It has a longer fuselage than the GR.1 enabling it to carry more fuel for an increased range or endurance. Constantly upgraded with the latest systems it could receive real-time information on approaching targets through a JTIDS (Joint Tactical Information Distribution System) data-link with a patrolling Airborne Early Warning Boeing E-3D Sentry. It could be armed with the Raytheon AIM-120 AMRAAM (Advanced Medium-Range Air-to-Air Missile) and AIM-132 ASRAAM (Advanced Short-Range Air-to-Air Missile) missiles.

By March 31, the Out of Service date for the Tornado F.3, the final eight aircraft will have been flown to RAF Leeming for spares recovery and scrapping. Most of 111 Squadron's 140 engineers, nine pilots and nine Weapons Systems Operators or navigators will be redeployed within the RAF. Some pilots will move across to the Typhoon.

On June 1, 2011 two of the remaining eight squadrons of the Tornado GR.4 ground attack variant jets, 13 Squadron at RAF Marham and 14 Squadron at RAF Lossiemouth will be disbanded as part of the Government's cost saving measures under the SDSR. The RAF should retain a reduced force of Tornado GR.4s to possibly 2021 before they too are withdrawn from service. From March 21 four Tornado GR.4s and ten Typhoon FGR.4s are operating from Gioia del Colle in Italy as part of operation 'Odyssey Dawn' to maintain a no fly zone over Libya.