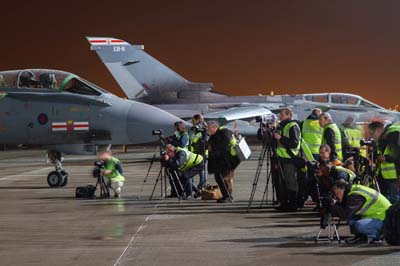 Phillip Dawe put together a great selection of visiting aircraft for RAF Northolt's Night photo shoot VI, which was organised to attract donations for the fund to restore the Battle of Britain Op's Room at the former World War Two fighter base. The fund was boosted by more than £3,000 from over 160 aviation photographers who had travelled from around the United Kingdom and across Europe to have the opportunity to take photographs at night.
For this year's first event photographers were treated with some fast jets, notably three 41(F) Squadron Tornado GR.4s from RAF Coningsby which were away from their home base for an exercise. All three jets were carrying recently applied tail codes (EB-G, EB-L and EB-R) representing those carried by Spitfires during the World War Two. Many would say that the star of the show was a Hawk T.1 resplendent in its new 2010 display season Union Jack colour scheme with '4 FTS 50 Years' on the tail.
Two Armée de l'Air Alpha Jets night-stopped from Dijon-Longvic (EE 02.002 'Cote d'Or'). A promised Mirage 2000D did not turn up, it had been reported that Northolt's runway was ten feet shorter than the Mirage's minimum. Another interesting attendee was a Chinook HC.3 from the Chinook Development Flight which departed for its home base of RAF Odiham during the event. Agusta A.109E Power Elite (ZR325) of 60(R) Squadron Defence Helicopter Flying School (DHFS) based at RAF Shawbury was powered up before being towed to a hangar later.