Philip Stevens reports: Exercise 'Red Flag 08-4' - Russian Fighters over Nevada
Nellis Air Force Base (AFB) in Nevada is the home of the US Air Force Warfare Centre (USAFWC), tasked with training pilots to become the best combat aviators in the world. The USAFWC has at its disposal every aircraft in the air force's inventory with the huge Nellis Air Force Range (NAFR) just to the north of the airfield. Divided now into two zones, north and south, the NAFR is the largest US range covering some 4,700 square miles. A larger area of 14,800 square miles, which is half the size of Scotland, is available for military flying operations. The NAFR contains dummy airfields, unprepared runways, Surface to Air Missile (SAM) sites, Surface to Surface Missiles (SSM), Anti-aircraft artillery and bunkers, in fact everything you would expect in a war zone. The training is conducted with air and ground units of the Army, Navy and Marine Corps. Many allied nations are also able to train at Nellis, it is vital that the Allied coalition forces as seen during both Gulf Wars, are able to fly and fight together as one seamless unit.
Four or more times a year, Red Flag exercises, involving around 1,200 aircraft flying over 20,000 sorties, are run by the 414th Combat Training Squadron (CTS), 57th Operations Group (OG) of the 57th Wing (WG). The ten day exercises are designed to enable US and Allied forces to fight together in the most realistic way possible. For Red Flag 08-4, the fourth exercise of the fiscal year, the French (FAF), Indian (IAF) and Republic of Korea (RoKAF) air forces were invited to fly with and against US forces based in the US, UK and Japan. The IAF with eight Sukhoi Su-30MKI's and the RoKAF, with six Boeing F-15K Slam Eagle's, were attending Red Flag for the first time.
A White Force of 414 CTS staff construct combat scenarios where friendly Blue Air force is required to attack a defending Red Air force. The training programs are designed to reflect each unit's requirements, with the threat environments being discussed at length before and during the exercise. The White Force issue an Air Tasking Orders (ATO) to members of several squadrons who take turns as a mission commander, to prepare a plan for the package commanders to follow. Targets such as SSMs and SAMs are moved within the area of operations each day, White Force commanders will then issue intelligence updates to the Blue Air mission planners. The exercise scenarios usually build up in their size and complexity as the exercise progresses.

The Red Air force is part of a simulated Air Defence System flying in the Defensive Counter Air (DCA) role. They usually consist of packages of a dozen or more Nellis based Boeing (McDonnell Douglas) F-15C/D Eagles of the 65th Aggressor Squadron (AGRS) and Lockheed (General Dynamics) F-16C/D Fighting Falcons of the 64th AGRS. Both Aggressor squadrons belong to the 57th Adversary Tactics Group (ATG) which comes under 57 WG. These aircraft sport differentiating Russian style camouflage and codes, their experienced pilots employing mission tactics based on intelligence of potentially hostile air forces. Aggressor pilot intelligence briefings are reported to be held weekly in two hour sessions.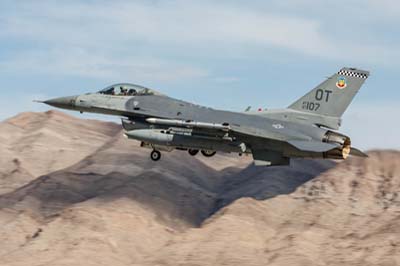 During Red Flag 57 WG are often supplemented by aircraft and pilots from the 422nd Test and Evaluation Squadron (TES), 53rd Test and Evaluation Group (TEG) under 53 WG another Nellis based squadron, as was the case during this Flag.
Whilst it may appear that they are only a small force, once 'shot' down, Red Air aircraft can regenerate themselves and so for a typical 90 minute mission they could represent a hostile force four times its actual size. A Red Air's air refuelling tanker flies a racetrack pattern behind their regeneration line. A 'downed' Red Air fighter once behind this line can get a full tank of fuel and be back in the fight a few minutes later.
Blue Air fly Offensive Counter Air (OCA) missions, their fighter aircraft are tasked to target Red Air and to escort air-to-ground strike packages. The integration of the Combined Air Operations (COMAO) packages is the key to success of the mission, flying with pilots from four or more nations is the challenge. Pilots during the exercise fly two daily missions, one day and one night.
All aircraft have Airborne Instrumentation Sub-system (AIS) pods for use on the Air Combat Manoeuvring Instrumentation (ACMI) ranges, to relay an aircraft's flight and weapon data to the Nellis Air Combat Training System (NACTS). This system incorporates the Red Flag Measurement and Debriefing Systems (RFMDS) which is used in real-time to monitor individual aircraft during missions and for post-mission analysis by reconstructing the manoeuvres and tactics used against the targets and simulated threats.
A Southern Area of Operations (AO) is used for ground targets, which include moving targets (e.g. convoys and tanks), and simulated urban conurbations. Close Air Support (CAS) operations are flown to protect the convoys and troops in an environment very similar to that of Iraq and Afghanistan. Joint Terminal Attack Controllers (JTAC) on the ground can call in aircraft to engage targets. Mostly inert weapons are used but some live munitions are dropped. Red Air fighters and SAM sites do not operate in the southern AO.