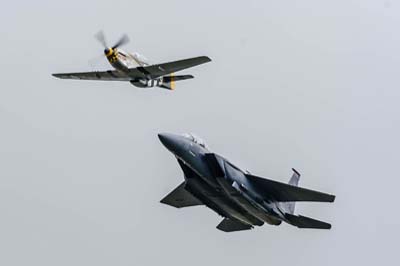 Its true people might have expected the USAF to provide more aircraft for the show, but no other Europe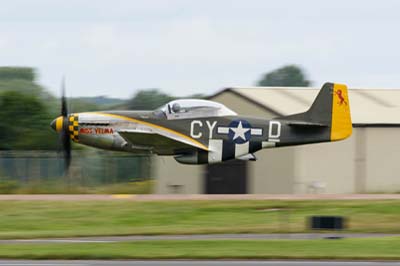 an show has anywhere the same level of USAF involvement as RIAT. The USAF Thunderbird display team with their F-16C/D Fighting Falcons were top of the bill and quite rightly so. They don't often cross over to the UK, the last time being seven years ago, it was their first display at RIAT. The Thunderbirds bring their own commentary team from Nellis AFB with extensive supporting equipment. Unfortunately for members of the media they were allocated a spot right in front of the media compound, blocking shots of the take-off and landings. The extensive Thunderbird display more than made up for any missed shots. The F-15E Strike Eagle Demo Team from the 4th FW at Seymour Johnson AFB crewed a borrowed 48th FW jet from RAF Lakenheath.

The Fighter Collection flew their latest acquisition the TF-51D Mustang 'Miss Velma' as part of the Heritage Flight display with the F-15E. 'Miss Velma' had recently made the Atlantic crossing to join the Fighter Collection at Duxford. Another historic USAF aircraft to fly was the immaculate F-86A Sabre owned by Golden Apple. The B-1B Lancer from the 7th Bomb Wing display was impressive, for once offering stunning topside passes to delight the thousands of photographers. An F-117A Nighthawk from the 49th FW at Holloman AFB flew perhaps for the last time in Europe before its retirement and 15 years since its first public showing at Mildenhall.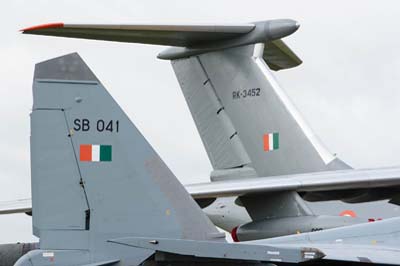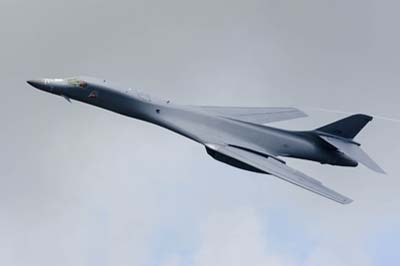 RIAT was not just a USAF 60th anniversary event of course, many air forces as usual from around Europe and beyond, attended the show. The most exotic being Indian Air Force, who had just completed exercise Indra Dhanush at RAF Waddington with 25 Squadron's Tornados, were persuaded to bring an IL-78MKI Midas and a pair of Sukhoi Su-30MKI Flanker's for the static display. They also briefly flew on the Saturday only another to complete a very special RIAT first.

The extensive flying display was concluded each day, Saturday in the much better weather, with a 'Tactical Role Demo'. This elaborate event consisted of Tornado GR.4s attacking Fairford with impressive pyrotechnics, were supported by an RAF E-3 Sentry for AWACS cover. Tornado F.3s, Chinook and Hercules completed the demonstration package. Due to cuts in military budget and operational commitments around the world, its not surprising that the number of aircraft attending RIAT has fallen in recent years, however this year numbers were slightly up over last year with 320 aircraft from 24 countries attending. Some have said that the show had grown to become too big and now it is more manageable.

RIAT remains a top aviation event and will continue to attract large crowds. Tim Prince and his vast team of professionals and the 3,000 plus volunteers must be congratulated for pulling off yet again a wonderful fun event. Next year's show will be held on the weekend of July 12-13, the same one chosen by Duxford's Flying Legends show! I can't imagine why this would be done deliberately as many enthusiasts want to attend both shows in their entirety.