The USS Theodore Roosevelt (TR) and known as 'Big Stick' was returning to its home port of Naval Station Norfolk, Virginia after a six-month cruise to the Arabian Gulf. The Carrier Strike Group was supporting operations 'Iraqi Freedom' and 'Enduring Freedom' as well as conducting Maritime Security Operations (MSO) in the Gulf. Their aim was to deny international terrorists use of the maritime environment as a venue for attack or to transport personnel or weapons, we were told.

Often described as the most dangerous working environment on the planet, flight deck operations are held under a very strict safety regime. As a photographer I was escorted at all times once on deck.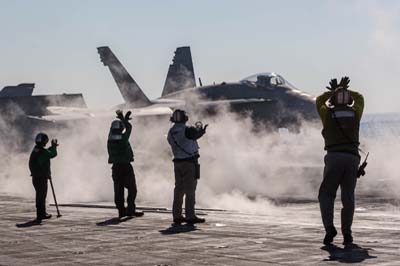 The equipment issued during my safety briefing was, a cranial, ear defenders, goggles and a life jacket. Prior to going to the flight deck, I was warned to stay within the certain areas. Also, to not cross-designated lines, otherwise a 'foul deck' would be declared and I would be taken below. This final comment certainly focused the mind. Should we to be caught by jet blast, I was advised to not run away, but to get down on one knee. If blown over you are to lie flat and whilst the jet blast might be hot, apparently it would not burn. The life jacket had a small hole in the back designed specifically to enable you to be pulled back easily. We were also warned not to use flash photography on the flight deck, as it could be a distraction to pilots and crew. night-vision goggles (NVGs) are used extensively at night and flash will cause the crew considerable discomfort to sat the least.

Fine, I was now ready to go. During flight operations, I was frequently pulled and pushed down and generally manhandled in a very reassuring way, to ensure my personal safety. On the flight deck during operations taxiing aircraft can surround you, as they position to their allocated catapults. The flight deck is also very noisy and so hand signals are used when radio communication is not available.

Above left and right: The crew test the steam powered catapults, prior to the first launches of the day.