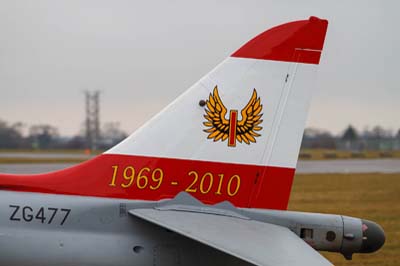 1(F) Squadron was one of three squadrons, the other were 4(AC) Squadron RAF and 800/801 Squadron of the Naval Strike Wing which made up Joint Force Harrier (JFH) and were all based at Cottesmore until JFH was disbanded in December 2010.

Following the disbandment of 4(AC) Squadron on March 31, 2010, 800 and 801 Naval Air Squadron (NAS) were merged to form a single squadron which will be 800 NAS. The then new Joint Strike Wing (JSW) consisted of 1(F) Squadron and 800 NAS.


Under the Strategic Defence and Security Review announced on October 19, 2010 the Harrier was retired on December 15, 2010 and 1(F) disbanded on March 31, 2011.