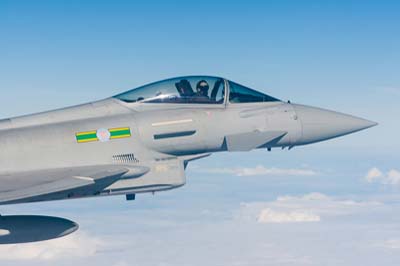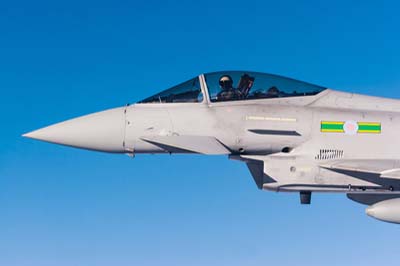 3(F) Squadron started operating the Harrier in the early 1970s in Germany. In 1999 they moved to RAF Cottesmore, they were later joined by 4 Squadron in 2001. On April 1, 2006 3(F) Squadron disbanded at RAF Cottesmore and reformed at RAF Coningsby to become the first frontline squadron to become operational on the Eurofighter Typhoon. Its initial allocation of ten aircraft were in operation by October 2006.
On June 29, 2007 they took over responsibility for the Southern QRA replacing the 25 Squadron Tornado F.3 detachment.

Left: Typhoon F.2 (ZJ919 coded 'QO-W') when flying in exercise 'Wycombe Warrior' on October 3, 2006.
Right: Typhoon F.2 (ZJ936 'QO-S') over North Sea in March 2008.