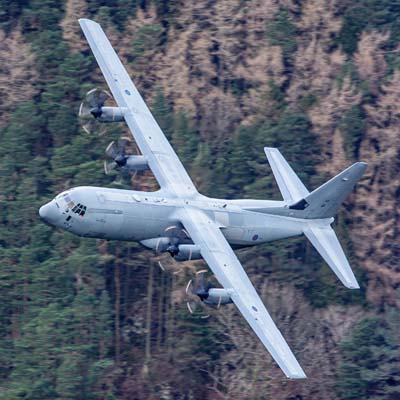 RAF Lyneham in Wiltshire was the home of the RAF's transport fleet of Lockheed C-130 Hercules until its move to RAF Brize Norton on July 1, 2011. It is over forty years since the first of 66 C-130K Hercules C.1 (most later upgraded to C.3 standard) were delivered to the RAF from August 1, 1967. Thirty or so years later a further 15 C-130J-30 Hercules C.4 and 15 C-130J Hercules C.5 were delivered to the RAF Lyneham Transport Wing (LTW). The remaining 'K' variants are expected to be in operation till around 2012.
The LTW comprised 24, 30, 47 and 70 Squadrons (now with the A400M Atlas since reforming in October 2014) their role is Tactical Air Transport, 70 Squadron which operated the Hercules C.3 variant only were disbanded with the move to Brize Norton and the formation of the Brize Norton Transport Wing (BNTW). The BNTW comes under the command of 2 Group Air Combat Support and Air Battle Management and the 38 Expeditionary Air Wing (EAW). 24 Squadron operates the C.4 variant, 30 Squadron the C.4 and C.5, C.3A and 47 Squadron the C.1, C.3 and C.3A. By March 2011 there were only nine C-130Ks in operation, three C.1s, one C.3 and five C.3As. In October 2013 the last remaining C-130Ks were withdrawn from service, the final low-level sorties were flown by a pair through the Loop and Lake District on October 25, 2013.

The C-130 fulfils a variety of roles for the RAF. In the Air Transport role the C-130 is ideal for short haul operations of troops and equipment. As the C-130 can land on short and unprepared landing strips, its rugged design means it is suited to Tactical Air Land Operations. Troops and equipment can be off-loaded in full fighting order in rapid time. If required troops, including Special Forces and equipment can be dropped by parachute on to a Drop Zone (DZ) within a five minute window. Delivery profiles can include High Altitude, High Opening (HAHO) or High Altitude, Low Opening (HALO). The Air Loadmaster who is responsible for everything behind the flight-deck can work with Ground Engineers working as threat observers, to air drop troops and supplies day or night. Search and Rescue (SAR) operations have also been added to the role of these aircraft, in place of the Nimrod MR.2s on occasions. Inflatable life rafts and divers can be dropped into the sea. The fleet of C-130s are also available at short notice to deliver humanitarian aid and non-combatant evacuation.
Some operations demand that the crew fly the C-130 at low-level. Operating such a large aircraft at low-level is as demanding as it is thrilling. It involves managing a large crew and utilising defensive tactics with a comprehensive range of defensive aids. Unlike fast-jets the C-130 is unable to climb out of some tricky situations, pilots have to be constantly aware of their escape options. A typical low-level training sortie will include 'events' ranging from dummy drop zones, live drops to natural surface landings. The C-130 during low-level operations in hostile environments are potentially vulnerable to air-to-air threats, consequently crews practice fighter evasion exercises, often at night using night-vision goggles (NVG).