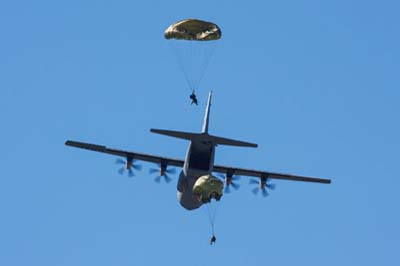 Philip Stevens reports on Thracian Spring 2010 where on the final day the two NATO forces swapped equipment.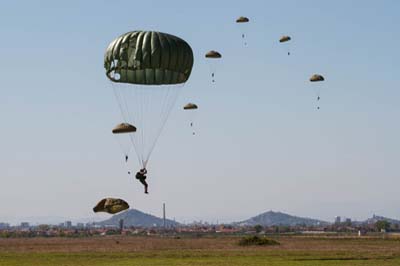 The fourth annual joint United States and Bulgarian military training exercise 'Thracian Spring' took place in Bulgaria from April 22 to April 28. For Thracian Spring 2010 two Lockheed C-130J Hercules of the 37th Airlift Squadron (AS), 86th Airlift Wing (AW) based at Ramstein, were deployed to Bulgarian Air Base Plovdiv-Krumovo. 81 US airmen were joined by U.S. Army soldiers also based in Germany.

The aim of the exercise was to enhance tactical skills, to improve interoperability between NATO allies, and to build long-lasting relationships. "We are here to build partnerships while working with our Bulgarian counterparts as we exchange airlift and airdrop tactics and ideas," said Lt. Col Matthew Wehner, the 37th AS deployed commander. "It provides a bridge and common language for future NATO contingency operations when full interoperability is paramount", we were told.

Essentially, Thracian Spring provides the Bulgarian forces with the opportunity to train their paratroopers, while USAFE pilots can complete their night operational training requirements. "We are able to assist the Bulgarians with training and maintaining their jump requirements during the day and fulfill our night time training requirements during the night, a task which is difficult to complete in Germany due to the reduced hours of darkness."
Joint training exercises such as these, ensure forces are prepared properly for joint operations such as in Kosovo, Kabul, Kandahar and Bosnia. The training provided here is not only vitally important to success downrange, it's also a "good time," said Bulgarian Army Lt. Col. Petko Petkov, the 68th Special Forces chief of Combat Training.