Exercise Iniohos 2016
Air Tactics Centre (Kentro Aeroporikis Taktikis – KEAT)
Andravida Air Base
April 2016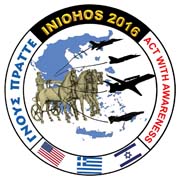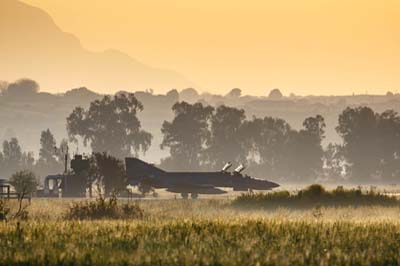 700 plus sorties were flown day and night during Exercise Iniohos 2016, HAF F-4E(AUP) Phantom is taxiing out shortly after sunrise to start the days intense flying.

The Hellenic Air Force's (HAFs) Air Tactics Centre (Kentro Aeroporikis Taktikis - KEAT) was formed in the 1980s and operates as an independent wing at Andravida air base. For two weeks in April 2016 KEAT were hosts to United States and Israeli military forces for the exercise 'Iniohos 2016'. Iniohos 2015 exercise proved to be a great success and last year's participants were keen to attend this ever expanding event. In 2014 only HAF units were involved, then last year Israel provided twelve F-16I Sufa from four squadron's based at Hatzerim adding to the complexity and variety of the missions flown.



This year the Israeli Air Force arrived with twelve F-16C/D Block 30 Barak/Brakeet from three squadrons (109, 110 and 117) based at Ramat David air base. While additional to last year's Iniohos exercise the United States deployed twelve F-15E Strike Eagles from the 492nd Fighter Squadron, 48th Fighter Wing based at RAF Lakenheath in the United Kingdom.

Once again assets were utilised from across the Hellenic military inventory. The HAF provided a comprehensive fighter force for both red and blue air forces. Deployed to Andravida were; Mirage 2000EG from 332 and Mirage 2000-5 from 331 Mira (Squadron) based at Tanagra with 114 PM (Combat Wing) and 116 PM, 335 Mira based at Araxos provided F-16C Block 52M Fighting Falcons for the air defence and strike roles.
111PM at Néa Anchialos flew their F-16C/D Block 50 Fighting Falcons with 341 Mira and 347 Mira. 341 Mira have been assigned the air defence and suppression of enemy defence (SEAD) role, while 347 Mira are highly trained for the air defence and strike role using LANTIRN pods enabling them to fly very low at night.
115 PM deployed F-16C/D Block 52+ Fighting Falcons from 340 Mira based at Souda on the Island of Crete for the air defence and strike role.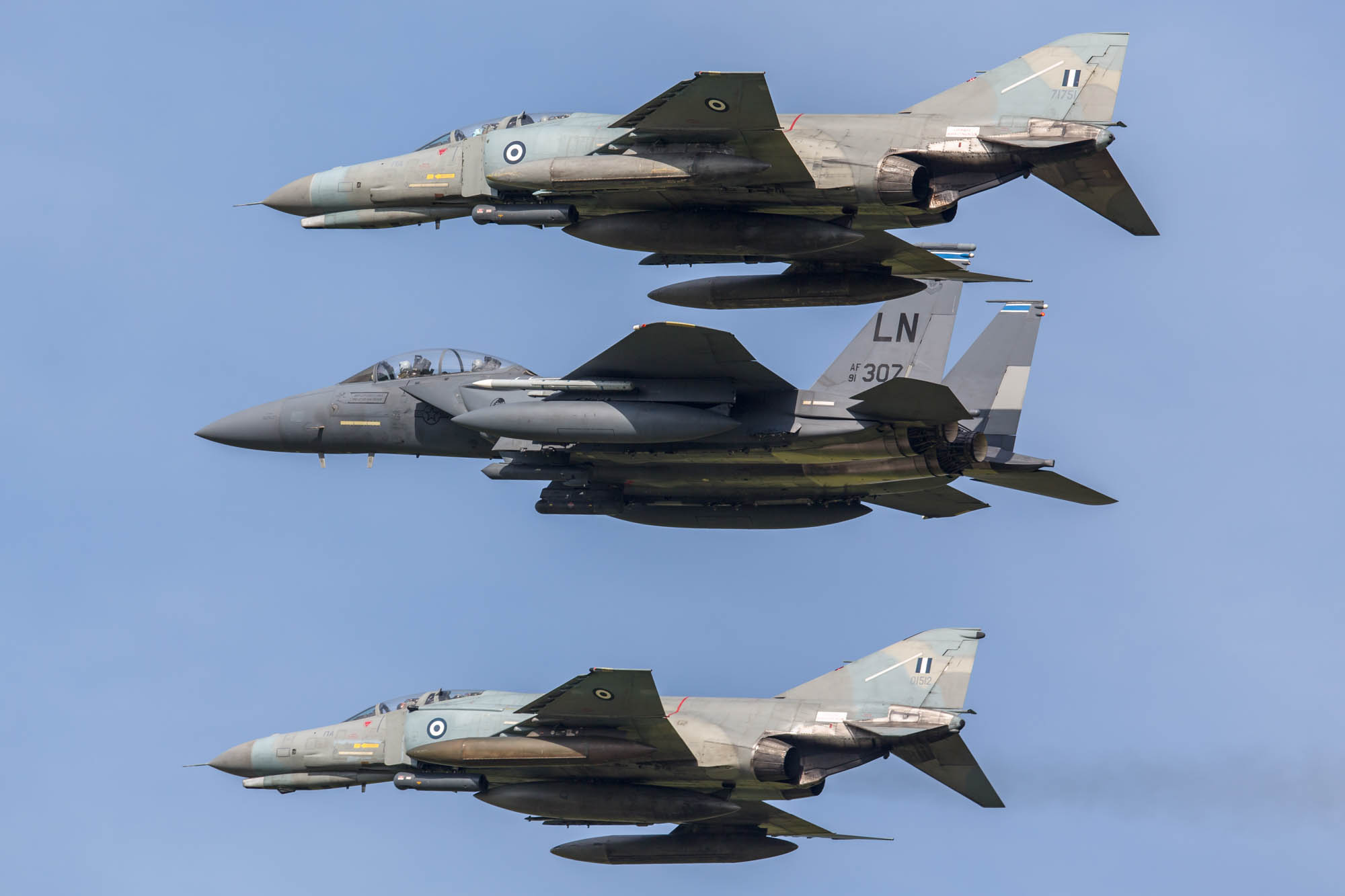 As a demonstration of the close cooperation between the Hellenic Air Force and the United States Air Force two HAF F-4E(AUP) Phantoms escort an F-15E Strike Eagle of the USAF's 492nd Fighter Squadron.
Lt Col Matt Hund commander of the 492nd flew a number of missions at low level during their deployment, whilst very comfortable in the low level arena due to 492nd 's regular training between the hills of Wales and Scotland commented that he was very impressed with the scale of the huge Peloponnese mountains and valleys he had flown through. He was very enthusiastic over the quality of training shared during the exercise, free of many of the airspace restrictions he had experienced across Europe during similar exercises.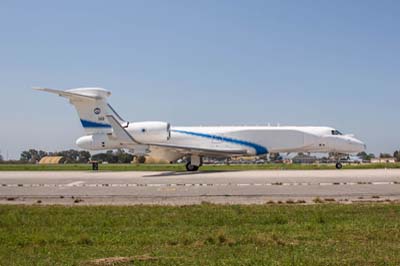 Israeli Air Force Gulfstream Aerospace G-V-SP Gulfstream G550 'Eitam' (569) Conformal Airborne Early Warning (CAEW) is their 'eye in the sky' with 122 Squadron 'The Dakota Squadron' is based at Nevatim air base. The CAEW is fitted with the Israel Aerospace Industries/Elta EL/W-2085 multi-band phased array radar providing 360 degree coverage combined with advanced electronic support measures, electronic intelligence and communications intelligence suite. False or 'spoofing' information broadcast from the AEW&C aircraft is designed to confuse pilots who already have much to contend with when engaging their opponents.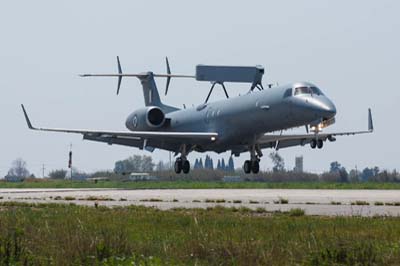 Hellenic Air Force Embraer EMB-145-H 'Erieye' (757) with 380th AEW&C Squadron 'Uranus' based at Elefsis operating in the Airborne Early Warning (AEW&C) role.

Once again 117PM at Andravida utilised their F-4E(AUP) Phantom IIs from both 338 Mira and 339 Mira. These fighter aircraft flew as Blue and Red air and were assigned various roles from Offensive and Defensive Counter Air Operations, fighter sweep, anti-surface force air operations (ASFAO).
330 Mira and 337 Mira remained at their home bases of Néa Anchialos and Larissa to provide a very potent red air presence.

Both the HAF and Israel provided additional aircraft in the Airborne Early Warning (AEW&C) role. A HAF Embraer EMB-145-H 'Erieye' with the 380th AEW&C Squadron based at Elefsis was operating during the large scale COMAO (Combined Air Operation) strike packages. While Israel's 122 Squadron from Nevatim air base provided a Gulfstream Aerospace G-V-SP Gulfstream G550 'Eitam' Conformal Airborne Early Warning (CAEW) as their 'eye in the sky.

Working from the KEAT complex at Andravida participating personnel planned the missions to make up next day's COMAOs. For each of the exercise's flying days task commanders were given varied scenarios with which to test the crews.

KEAT oversees the Tactical Weapons School's (Scholio Oplon Taktikis - SOT) who normally run annual ten week courses for its HAF elite pilots. Using experience gained over decades of such courses which have been updated and so improved the training given. This vast experience has been used now to provide high quality training during this multi-national invitational exercise (INVITEX).

KEAT working with the Hellenic Army and Navy meticulously designed each scenario to include time sensitive targeting (TST) strikes on land and sea. Each target such as a bridge, airfield or on naval vessels has an array of air defences from surface-to-air missile batteries to defending aircraft. The Hellenic Army used attack and utility helicopters such as the AH-64DHA Apache while the Navy had an array of surface vessels with their and the S-70 Seahawk maritime patrol helicopters.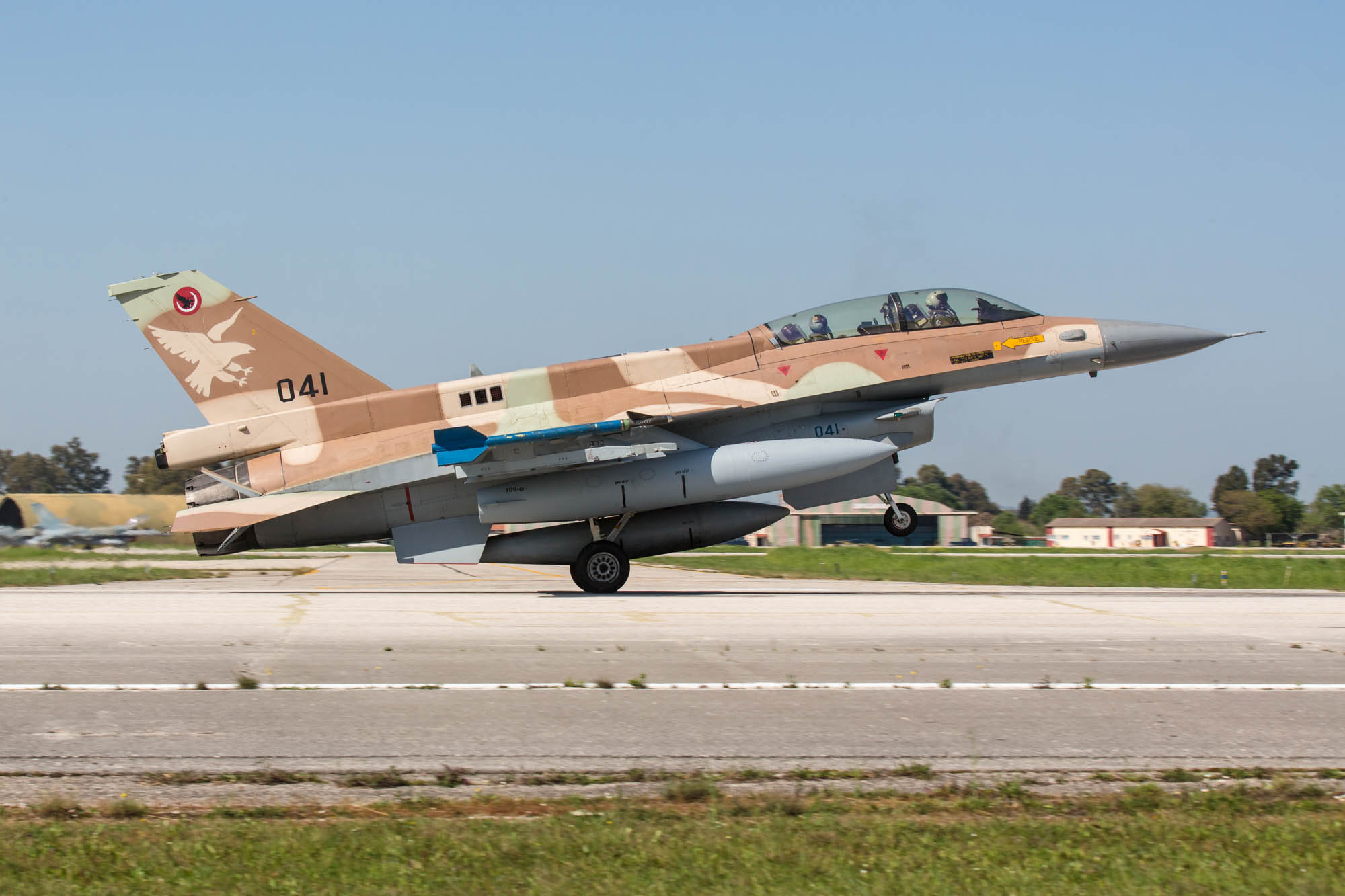 F-16D Block 30 Brakeet (041) from the 109th 'The Valley Squadron' based at Ramat David Air Base, departs Andravida as part of a COMAO strike package.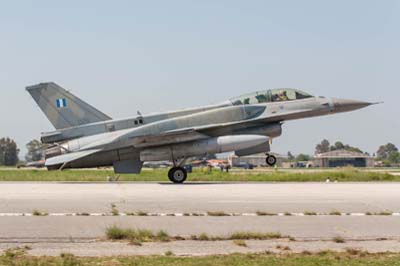 The HAF F-16 Fighting Falcon ramp ready to go.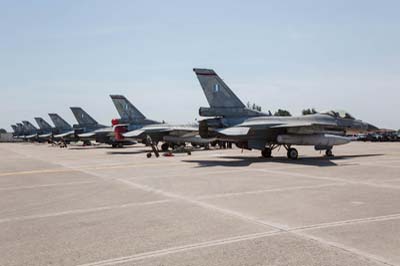 F-16C Block 52M Fighting Falcon of 335 'Tigris' Mira (Squadron) based at Araxos touching down at the end of a challenging mission.

Each day two waves (A and B) of aircraft flew missions three hours apart, followed by a side mission comprising of around six HAF, IAF and USAF jets. Wave C lifted off at 21:00 for the start of extensive night flying operations followed later by another side mission. Blue air were assigned numerous targets to attack, initially airfields but moving later during the exercise on to command and control targets plus vehicles, bridges and mobile missile batteries all of which were defended by a very capable red air contingent often operating from bases nearer to the target, in all 700 plus day and night intense sorties were flown over the ten days of the exercise which ran between April 4 and 14.

Lt Col Matt Hund commander of the 492nd Fighter Squadron said; "Iniohos provides an opportunity for the U.S., Greece and Israel, as partners, to hone their operational skills and continues to promote peace and stability throughout their respective regions", adding "We get to look at specific training that meets our needs for the United States, but we also get to train with our allies. Any time we have the chance to get better, to learn from and teach our allies, is a great opportunity."

It is anticipated that next year's Iniohos exercise already in the planning stage will introduce yet another air force in the complex scenarios thereby increasing the quality of the training and cooperation between nations.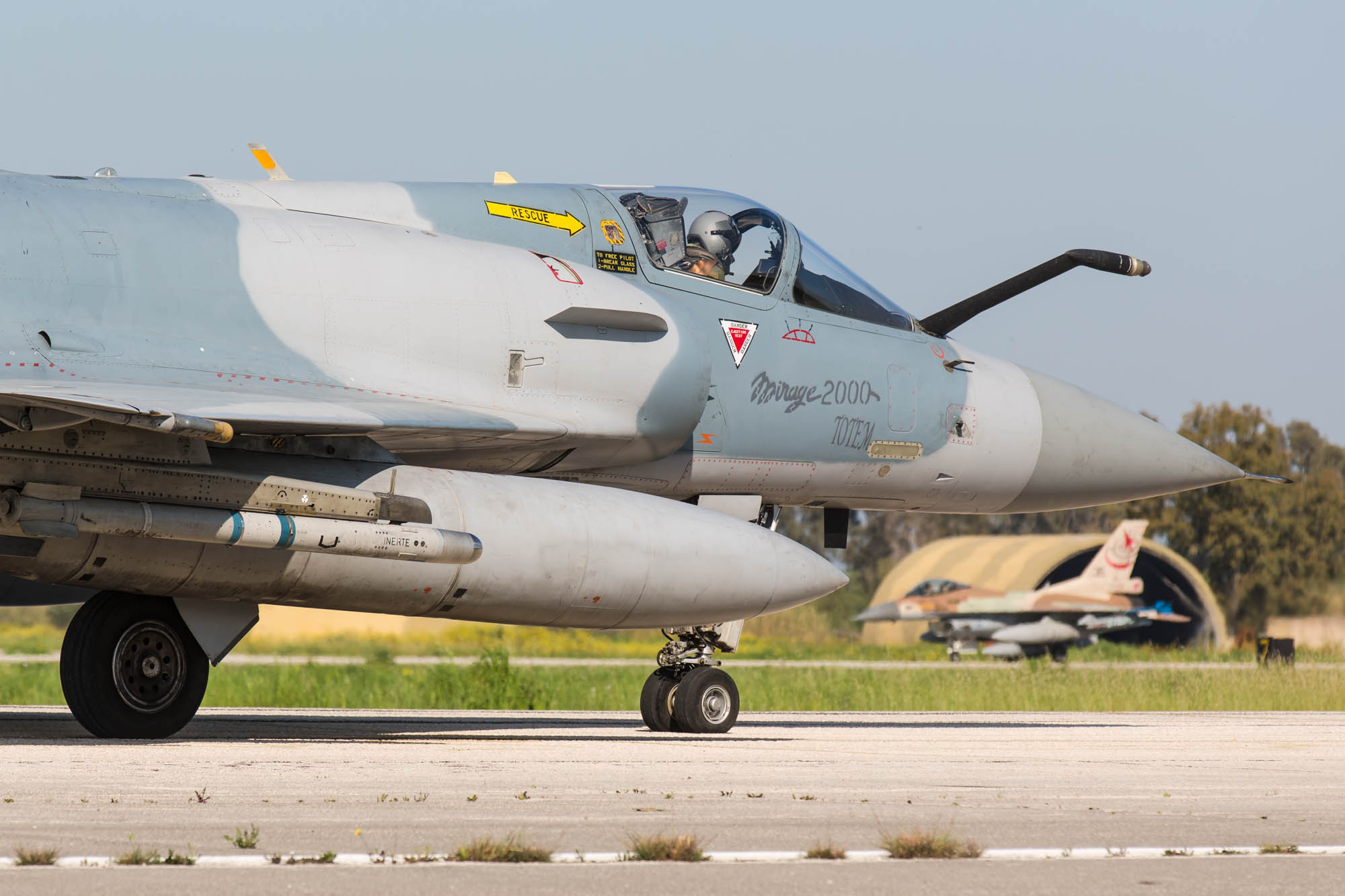 A HAF Mirage 2000-5EG with 332 'Geraki' All Weather Squadron based at Tanagra, is about to launch, while Israeli Air Force F-16C Block 30 Barak from the 117th 'First Jet Squadron' taxis out towards the holding runway point.