Exercise Iniohos 2018
Air Tactics Centre (Kentro Aeroporikis Taktikis – KEAT)
117 Combat Wing Andravida Air Base
March 12 to 23, 2018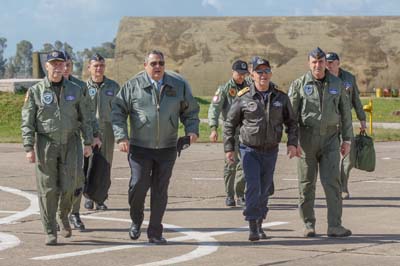 Minister of Defence Panos Kammenos (Centre) is accompanied by Lt. General Christos Christodoulou, Chief of the Hellenic Air Force General Staff (to his right) and Admiral Evangelos Apostolakis (to his left) and Col Antonios Panidis, Hellenic Air Tactics Centre Commander plus other senior staff following.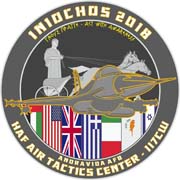 Iniohos 2018


The Hellenic Air Force's (HAFs) Air Tactics Centre (Kentro Aeroporikis Taktikis - KEAT) was formed in the 1980s and operates as an independent wing at Andravida airbase. KEAT oversees the Tactical Weapons School's (Scholio Oplon Taktikis - SOT) ten-week course which runs at least once a year for its elite pilots. Using the experience gained over the annual courses they have consistently updated to improve training given.


The Iniohos/Iniochos (Charioteer in Greek) concept started in November 2013 with its planning for Iniohos 2014 held the following April and attended exclusively by HAF units. Iniohos 2015 was the first multi-national invitational exercise (INVITEX) and Israel Air Force worked alongside multiple Hellenic Air Force, Naval and Army units.

Continuing to expand Iniohos 2016 and 2017 saw the arrival of U.S. Air Force (USAF) with the Italian Air Force (ItAF) and the United Arab Emirates Air Force (UAEAF). 2018 increased the number of participating nations to include the Royal Air Force who participated the Eurofighter Typhoon FGR.4, from 3 Squadron based at RAF Coningsby. This year for the first time, the ItAF deployed 6 Stormo Panavia Tornado based at Ghedi and building on last year's AMX deployment. The USAF returned with 48 FW F-15E Strike Eagles based at RAF Lakenheath, which had participated in 2015. In 2017 the UAEAF flew F-16 Fighting Falcons to Andravida returning this year with the Mirage 2000-9EAD from their Al Dhafra Air Base. The Mirage 2000-9EAD is based on the 2000-5 flown by the French Air Force but optimised for the air-to-ground strike role. For Iniohos 2018 the Hellenic Navy had their own sub-exercise termed 'Astrapi' and the Hellenic Army with exercise 'Polifimos' testing their own units against large and diverse strike forces.
Iniohos 2018 patch (above)


It was interesting to note that the RAF appeared to not commit to the exercise until just a few weeks before it started as suggested by the first Iniohos 2018 patch which did not contain the Union Jack flag. The Israeli Air Force who had strongly attended all previous Iniohos exercises were also not included on the first and second patches produced. They arrived halfway through the exercise and departed just four days later. The third patch could be seen during the media day held on the second week which included the Israel flag.
F-16C Block 52M Fighting Falcon (018) with 116PM (Combat Wing), 335 Mira (Squadron) at the start of night operations.
KEAT highlighted the operational requirements for Iniohos 2018 as to develop interoperability and standardisation with the integration of legacy and modern air assets while preparing air crews to fight in a contested environment. The benefit of the single-base concept was described by Col Antonios Panidis, Hellenic Air Tactics Centre Commander, "The single base concept brings together hundreds of participants in face to face planning, briefing and debriefing thus maximizing training benefits and promoting cooperation and exchange of ideas on tactics between participants with different experience." Whilst some opposing air assets ('red air') and specialised electronic warfare aircraft operated from other air bases, all 'blue air' aircraft flew from Andravida, planning their missions from the modern air tactics centre buildings. Throughout the exercise highly trained KEAT instructors work closely with attending pilots to plan their missions and meet challenging objectives.

Col Panidis spoke to invited high-ranking guests at Iniohos 2018. He summarised on the seventh day of operations the exercise scenarios that the planners were directing; "The exercise scenario begins with a crisis that escalates to a full war giving the opportunity to the participants to be trained in full scale day and night operations as shown on the screen. While the participants are exposed to non-stop fighting, information flow affects every aspect of the mission thus creates a realistic and immerse environment where the air crews' tactical flexibility in decision making is challenged."

The expanding NATO contingent at Iniohos reinforces an already high level of interoperability with the introduction of friendly nations to build on cooperation to foster support across diverse Middle Eastern nations which so far have included; Israel, Cyprus, United Arab Emirates and Egypt who were flying the F-16 Fighting Falcons alongside KEAT instructors in 2016 and were observing at Iniohos this year.

Day by day the exercise scenario escalates to full scale offensive strikes conducted both day and night. At the start the exercise missions require deterrence and decisive defence (days one and two) leading to seize the initiative, we were told and building to eventually dominate and control the threat by day nine. In the final scenarios, three waves of aircraft depart Andravida each day. These large strike packages of up to 30 aircraft known as Composite Air Operations (COMAOs) comprise small formations of precisely timed departures of air to air and air to ground strike aircraft which coordinate their missions planned against targets in a multi threat environment.

Much of mainland Greece and the Aegean Sea (Greece FIR) is made available from surface (300 feet AGL) to unlimited flight levels. Low level strikes were possible using the spectacular valleys in the Peloponnese and beyond. A full range of missions are required during the exercise including; offensive and defensive counter air operations (OCS and DC), air power contribution to land ops (APCLO) and air power contribution to maritime ops (APCMO) involving time sensitive and dynamic targeting (TST and DT). Combat search and rescue (CSAR) missions were flown from other bases utilising HAF helicopters and for the first time involving Cyprus National Guard AW-139 helicopters.

Lt. General Christos Christodoulou, Chief of the Hellenic Air Force General Staff speaking during the media day said; "Greece has been historically and culturally associated with the Middle East and North Africa for over three thousand years and as a member of NATO and EU, is an integral part of the region and acts as a bridge with Europe, conveying the values and principles: of stability, peace and security. I strongly believe that multinational training engagements strengthen our relationships, maintain joint readiness and interoperability and reassure our regional allies and partnership."

Col Panidis said; "Today's security situation, challenges air forces across the entire spectrum of their capabilities. Allied countries rely on airpower to deliver rapid and precise response to complex challenges hence operational training must address this widening of the spectrum, especially in a time of military budget constraints." Greece provided a large range of military assets ensuring the most realistic of exercise scenarios over the nine operational days. Iniohos aspires to be one of the most important military exercises held in Europe. This year it involved over 200 air crew, 76 fighter aircraft, flying over 1,000 sorties against a range of targets. The number of sorties flown has continued to grow from almost 800 that were flown at Iniohos 2014. "The exercise is characterised by an intense battle rhythm that is designed to test all aspects of operational capability of supporting a high tempo of operations and maximizing the operational use of limited air assets", said Col Panidis.

Gen. Christodoulou said; "Joint Air Power was and will remain a keystone element within NATO's security strategy and our alliances are most certainly ready to continue contributing to its excellence." Col Panidis concluded his presentation at Iniohos confirming that all objectives had been met and saying; "Moreover, I'm convinced that the aim INIOHOS to become a most competitive INVITEX providing high level training and unique experience has been achieved."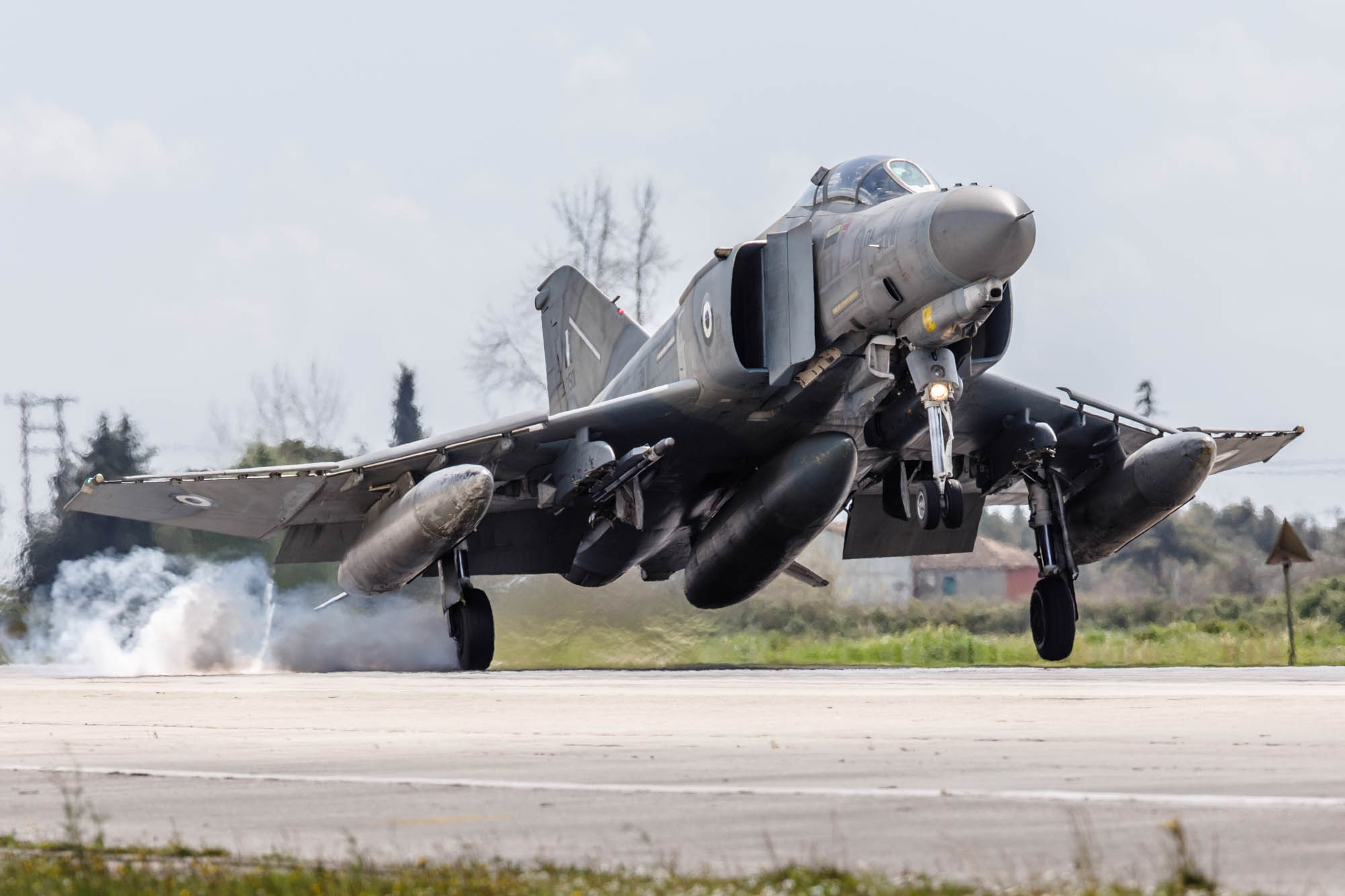 F-4E (AUP) Phantom II (01501) touching down at then end of an afternoon mission.
117PM at Andravida utilised their F-4E (AUP) Phantom IIs from 338 Mira the last remaining Phantom squadron.
Left to right: F-4E (AUP) Phantom IIs (71751, 01512 and 01505) with 338 Mira based at Andravida.
F-16C Block 30 Barak (345) from the 117th 'First Jet Squadron' based at Ramat David Air Base.
Left to right: F-16C Block 30 Barak (317, 341 and 307) from the 117th 'First Jet Squadron' based at Ramat David Air Base. This squadron was at Iniohos 2016, but in 2018 only took part in the second week.
Panavia PA200 Tornado IDS (Interdictor/Strike) (MM7004 '6-55') with 154° Gruppo of 6° Stormo.
Left to right: Tornado IDS (MM7036 '6-06', MM7004 '6-55', MM7073 '6-34' and MM7024 '6-50') with 154° Gruppo of 6° Stormo.
Typhoon FGR.4 (ZK308 with ZK304) of 3(F) Squadron based at RAF Coningsby.
Left to right: Typhoon FGR.4 (ZK304 '304', ZK356 '-' and ZK366 '366') of 3(F) Squadron based at RAF Coningsby.
F-15E Strike Eagle (91-315 'LN') of 492 FS, 48 FW based at RAF Lakenheath, with mission marks from a recent Middle East deployment for Operation Inherent Resolve.
Left to right: F-15E Strike Eagles (91-0605 'LN', 97-0219 'LN', 91-0331 'LN' and 98-0133 'LN') of 492 FS, 48 FW based at RAF Lakenheath.
Dassault Mirage 2000-9EAD (738) of 71 Squadron of the UAE AF based at Al Dhafra.
Left to right: Mirage 2000-9EADs (753, 729 and 720) of 71 Squadron of the UAE AF based at Al Dhafra.
F-16C Block 52M Fighting Falcon (029) of 116 PM (Combat Wing), 335 'Tigris' Mira based at Araxos.
Blue Air from which mission planners can select the aircraft required for the task



Hellenic Air Force
F-16C/D Block 52+ Fighting Falcons from 337 Mira based at Lárissa.
F-16 Block 52M Fighting Falcons from 335 and 336 Mira based at nearby Araxos,
F-16 Block 52+ Fighting Falcons from 340 Mira based at Souda, Crete,
F-16 Block 50 Fighting Falcons from 341 and 330 Mira based at Nea Anchialos,
F-4E (AUP) Phantoms from 338 Mira based at Andravida,
2 x Mirage 2000-5s from 331 Mira based at Tanagra
2 x Mirage 2000-5EGs from 332 Mira based at Tanagra.

Israeli Air Force
4 x F-16C Block 30 Barak from the 117th 'First Jet Squadron' based at Ramat David Air Base,

Royal Air Force
BAE Systems Typhoon FGR.4 with 3 Squadron based at RAF Coningsby,

United Arab Emirates Air Force
6 x Dassault Mirage 2000-9EAD of 71 Squadron of the UAE AF based at Al Dhafra,

Italian Air Force (Aeronautica Militare)
5 x Panavia PA200 Tornado IDS (Interdictor/Strike) 6° Stormo, 154° Gruppo based at Ghedi,



US Air Force


12 x F-15E Strike Eagle of 492 FS, 48 FW based at RAF Lakenheath, UK.