New Books
My thoughts on some of the books I have supported
I rely on good aviation books to do my research for magazine and website features all the time. Books and magazines play a big part in furthering my knowledge in aviation and aviation photography, keeping me up to date with what's going on in the world of aviation.
I have decided to share some of my thoughts on the latest books that now adorn my bookshelves. Below are reviews of some of the books that I think are particularly good.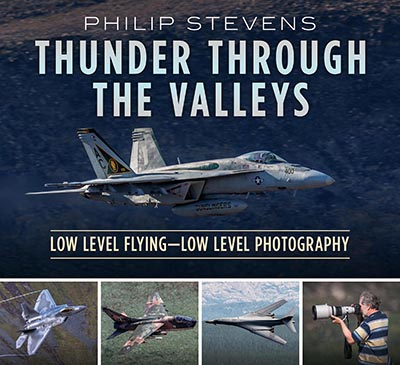 Thunder Through the Valleys:

Low Level Flying - Low Level Photography


Two books in one, this book covers military low flying and the challenges faced by the photographer. The main subject is about military low-flying - the skills, reasons and dangers from a pilot's perspective. The many commanders, pilots and mission planners interviewed explain the challenges they face flying fast and low day and night. Pilots describe their training, planning, systems and their most memorable missions flying the aircraft they love from the; A-7 Corsair, F-4 Phantom, Tucano, Tornado, Sk 60, B-1B Lancer, F-16 Fighting Falcon, F-16I Sufa, F/A-18 Super Hornet to even the F-22 Raptor. The photographer reveals how and where images were taken from mountainsides and desert canyons to cockpits for air to air images.

Pilots fly low to deliver weapons or gather data and evade Radar. Pilots from air forces across Europe and the United States talk about the skills they need to be effective in very dangerous flying environments. They discuss the challenging flying conditions they face when flying fast and low over snow, the sea or through mountain ranges at night. Commanders with many years of low-level flying experience give a fascinating insight in to their most memorable sorties and experiences from days gone by.



Thunder Through the Valleys: Low Level Flying - Low Level Photography


Published by Fonthill Media.
ISBN: 978-1-78155-724-2
Size: 225 x 248 mm
Extent: 128 pages
Illustrations: 187 colour
Price: £25 / $40 in paperback.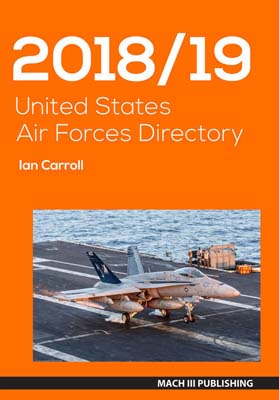 United States Air Forces Directory 2018/19

(Published bi-annually)
by Ian Carrol

The 11th Edition of US Military Aircraft Directory. The book includes details of all aircraft operated by the USAF / USN / USMC / US Army / NASA and the USCG.

Each aircraft is detailed from left to right with serial, construction number where known, specific type, operator or last operator and the last known sighting date of that particular aircraft or helicopter. Soft-back cover in A5 format with stitched pages for strength.

Soft back in A5 format, 718 pages. 20 colour pictures.

Mach III Publishing.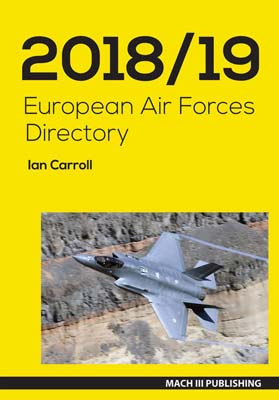 European Air Forces Directory 2018/19 (Published bi-annually)


by Ian Carroll

The 11th Edition of European Air Forces Directory. Over 40 different countries are covered which include Russia, Ukraine, Eire and the UK.

Listing from left to right is the aircraft serial, construction number, squadron and date last seen in that status. A full order of battle proceeds each air arm throughout and aircraft listings are in alphabetical order.

Soft back in A5 format, 936 pages. 20 colour pictures.

Mach III Publishing.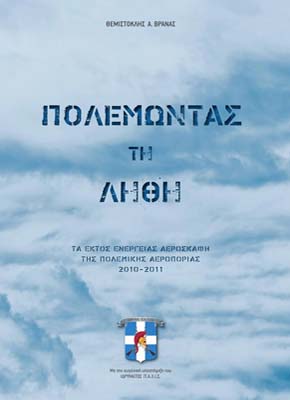 Fighting the Lethe (Hellenic Air Force out of service aircraft 2010-2011)


Themistoklis A. Vranas

Release Date: December 2011 -

My Review


Number of Pages: 152
Number of Photos: 770 in colour
Cover: Softcover
Language: Greek (with English supplement)
ISBN: 978-960-88120-9-3
Book Dimensions: 29 x 21 cm
Price: 18 Euros

Order from the book's editor and all round good guy

Antonios Tsagaratos

THIS BOOK IS NOW SOLD OUT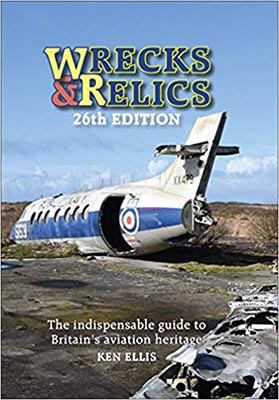 WRECKS & RELICS 26th Edition


Ken Ellis

This and its European counterpart (by

Otger van der Kooij

) were an essential purchase for me. In reaching its 26th edition, with publication stretching over a 45-year period, the biennial publication of this standard reference work on preserved, instructional and derelict airframes in the United Kingdom and Ireland, is eagerly awaited by aviation enthusiasts all over the country. Wrecks & Relics records all non-operational aircraft wherever they are to be found, in a county-by-county and province-by-province journey around the British Isles. It visits museums, military stores and dumps, the places where geriatric airliners await the axe and the workshops where aircraft are being lovingly restored. Aircraft are traced to technical schools, treasures are discovered in garages and barns and as gate guardians outside defence establishments. Bruised airframes used to train firefighters are also here. Fully revised and updated as always, the full-colour 64 page photographic section has also been refreshed with much new material. Wrecks & Relics is a unique publication and the essential reference book for all aviation enthusiasts.
"Available Post Free to UK Post Codes from Ian Allan Publishing" £20.60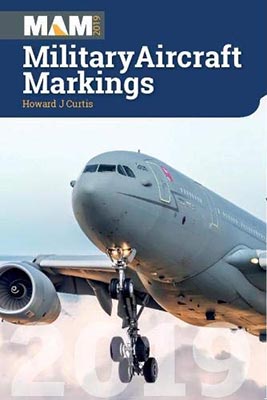 Military Aircraft Markings (Available Annually)


Howard J Curtis

The 40th annual edition of Military Aircraft Markings will list in alphabetical and numerical order the following military aircraft, covering powered, manned aeroplanes, helicopters, airships and gliders as well as target drones.
The book contains aircraft that carry a UK military serial and are based or might be seen in the UK. It also includes airworthy and current RAF/RN/Army aircraft that are based permanently or temporarily overseas.
Aircraft withdrawn from operational use which are retained in the UK for training purposes or preserved in museums and collections. The Irish Army Air Corps fleet is listed, together with the serials of other overseas air arms which might be seen in the UK.
USAF, US Army and US Navy aircraft based in the UK and Western Europe and types that regularly visit the UK from USA are each listed in separate sections by aircraft type.
Veteran and vintage aircraft carrying overseas military markings but which are based in the UK are also listed. Comprehensive website information for all the museums, locations, air forces, companies and organisations are listed. An invaluable work of reference which will be an essential purchase for all followers of military aviation development both at home and overseas and an ideal pocket guide for this season's air shows.

Details: Softback | 184 x 120mm | 304pp ISBN 978 1 910809259 £11.95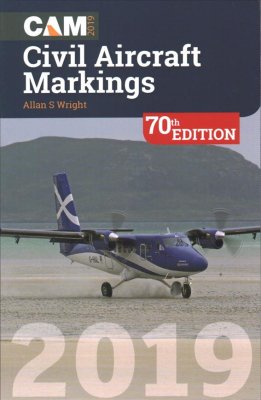 Civil Aircraft Markings (Available Annually)


Allan S Wright

I remember getting my first CAM in 1967 and still have it in fact! How things have changed since those days, when registrations were issued in sequence.
Civil Aircraft Markings continues to be the enthusiast's 'Bible' for its detailed and comprehensive listing of every single British registered aircraft, microlight, balloon and glider, plus overseas airliners that can been seen in British airspace. In January 2011, the total number of aircraft on the register was in excess of 20,000 so this is a monumental work of reference. Also included are airline codes for those carriers most likely to appear in or over the UK and radio frequencies for the large airports are also listed. The information remains easily and instantly accessible and is alphabetically arranged by aircraft code and gives model details and owner/operator information.

Details:
Softback | 184 x 120mm
ISBN 978 1 910809242
£11.99 "Available Post Free to UK Post Codes from Ian Allan Publishing"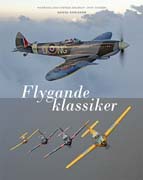 Warbirds and Vintage Aircraft over Sweden


Daniel Karlsson

Daniel is a good friend of mine, so much so that he asked me to edit the English content of this book. His English is excellent of course so very few corrections were needed. Moreover it was a pleasure to read his enthusiastic words before they came to print and to see the wonderful images he has in his collection of Swedish vintage aircraft. The words below are totally Daniel's.
In the first book about warbirds and vintage aircraft in Sweden, we are invited on a high flight among the Flying Classics. From the early flying machines, the inter-war biplanes, the birth of the airliners, the powerful warbirds and on to the early jets. With stories and photos - not least dazzling air-to-air-images - the book reveals a selection of airworthy aircraft from the first half of the 1900s. Here is the story of the designs, the restorations, the flying and the people. Summaries and captions in English. The book is released in 2014 by Daniel Karlsson, one of Sweden's leading photographers and writers in the aerospace field.

ISBN 9789163764523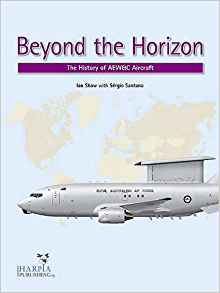 Beyond the Horizon - The History of AEW&C Aircraft


Ian Shaw with Sérgio Santana

No modern air force would contemplate a critical air operation without the involvement of some kind of airborne early warning component. For the first time, Harpia Publishing presents the full history of the airborne early warning mission and its various aircraft, from these first tentative steps in World War II up to the present day and the use of AEW and control (AEW&C) platforms as a familiar 'force multiplier' in modern air warfare. Detailed, precise and accurate, Sérgio Santana and Ian Shaw draw upon a myriad of technical data, archive material and extensive interviews with the personnel who have operated AEW&C aircraft throug the years. As well as detailing the development of technology and daily operations of the airborne early warning community, attention is also given to the deployment of these capabilities in combat, from World War II, via Korea and Southeast Asia to the various Arab-Israeli Wars, Operation Desert Storm and more recent campaigns.

256 pages with 25 black & white pictures, 107 colour pictures, 5 maps and 65 artworks and drawings. 21x28cm, softcover 35.95€ plus p&p

Harpia Publishing. ISBN 978-0-9854554-3-9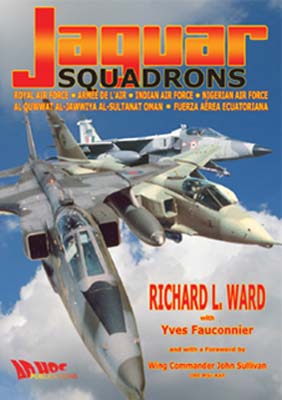 Jaguar Squadrons


by Richard L. Ward

Dick Ward's long-awaited follow-up to Lightning Squadrons of the Royal Air Force has finally arrived and for the first time in this long-established sequence of titles he considers a postwar combat aircraft in terms of its worldwide service across six different air arms; in this endeavour he has been able to call upon Yves Fauconnier, whose splendid photographs of Armée de l'Air aircraft are shown to advantage in the book, Simon Watson, whose collection of Indian Air Force images is well to the fore and of course a veritable army of other photographers who have generously permitted their work to be reproduced within.
Each air force covered is accorded a separate section and the squadrons are arranged in numerical order for each nation. The author provides expert commentary on the astonishing range of colour schemes that the Jaguar has sported over the thirty-plus years since it first arrived on the scene and highlights the various weapons fits and other equipment that it has carried during its career.

210 × 297 mm, 160 pages in full colour, 445 photographs, 32 artworks. ISBN 978 0 946958 51 1 Price £25.00 net On sale at Adhoc Publications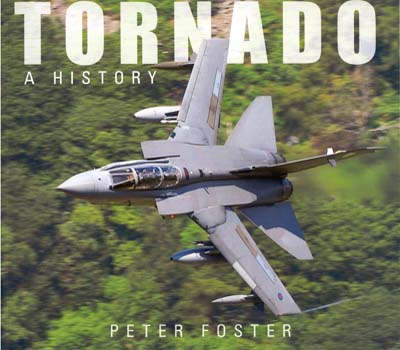 Tornado - A History


by Peter Foster

As the title suggests this book covers the development of the Tornado reconnaisance while is service. Pete has utilised photographs from his extensive personal collection. The later air to air and low-level images are exceptional.
The book concentrates on the two dedicated squadrons, II(AC) and XII, the systems they employed and their worth to the overall structure, interspersed with personal tales of front line operations. Tornado enthusiasts will enjoy the multitude of air to air and ground shots.

Tempus Publishing - The History Press
ISBN 978 0 7524 4514 4 Price £15.99