The Tomcat's Final Days
Aboard USS Theodore Roosevelt (CVN-71)
The last fully operational flying day of the Tomcat
February 21, 2006
On meeting Lt. William F. Kuebler, Public Affairs Officer (PAO) for the USS Theodore Roosevelt (CVN-71) at the port of Marmaris, Turkey, I asked what could I expect to see aboard the aircraft carrier the following day. His reply will remain in my memory for years to come. "Tomorrow [February 21, 2006] is a fully operational flying day, in fact the last ever for the Tomcat." He went on to say that the main event was a 19 aircraft launch involving all aircraft types that make up Carrier Air Wing 8 (CVW-8).
The Final Tomcat Cruise
The F-14 was envisaged as an air superiority fighter and interceptor. It was designed to replace the F-4 Phantom II, its first deployment was onboard the USS Enterprise (CVN-65) in September 1974. The upgraded F-14B was introduced in 1987 with the more powerful General Electric F-110 engines each producing 28,200 lbs. of thrust and negating the need for afterburners during catapult launches. It has a maximum speed of Mach 2.38 or 1,544 mph.

The F-14D followed entering service in 1990, with digital avionics and the new AN/APG-71 radar system. It was not until the 1990s that the Tomcats role changed from being that of solely air-to-air to having an additional air-to-ground role. The 'Bomcat' as it was named at the time, first dropped 'dumb' bombs in August 1990; laser-guided bombs were to follow. In 1995 considerable improvements were made to the new digital avionics and weapon systems, including Low-Altitude Navigational and Targeting Infrared for Night (LANTIRN) system for the delivery of laser-guided bombs and an improved Tactical Air Reconnaissance Pod System (TARPS).

The Tomcat during its final deployment became the first US Navy aircraft to use the Remotely Operated Video Enhanced Receivers (ROVER) system in December 2005. ROVER, already having been used by the US Air Force, allows ground forces using laptops, to view video of their surroundings transmitted by the Tomcats high above them in real time.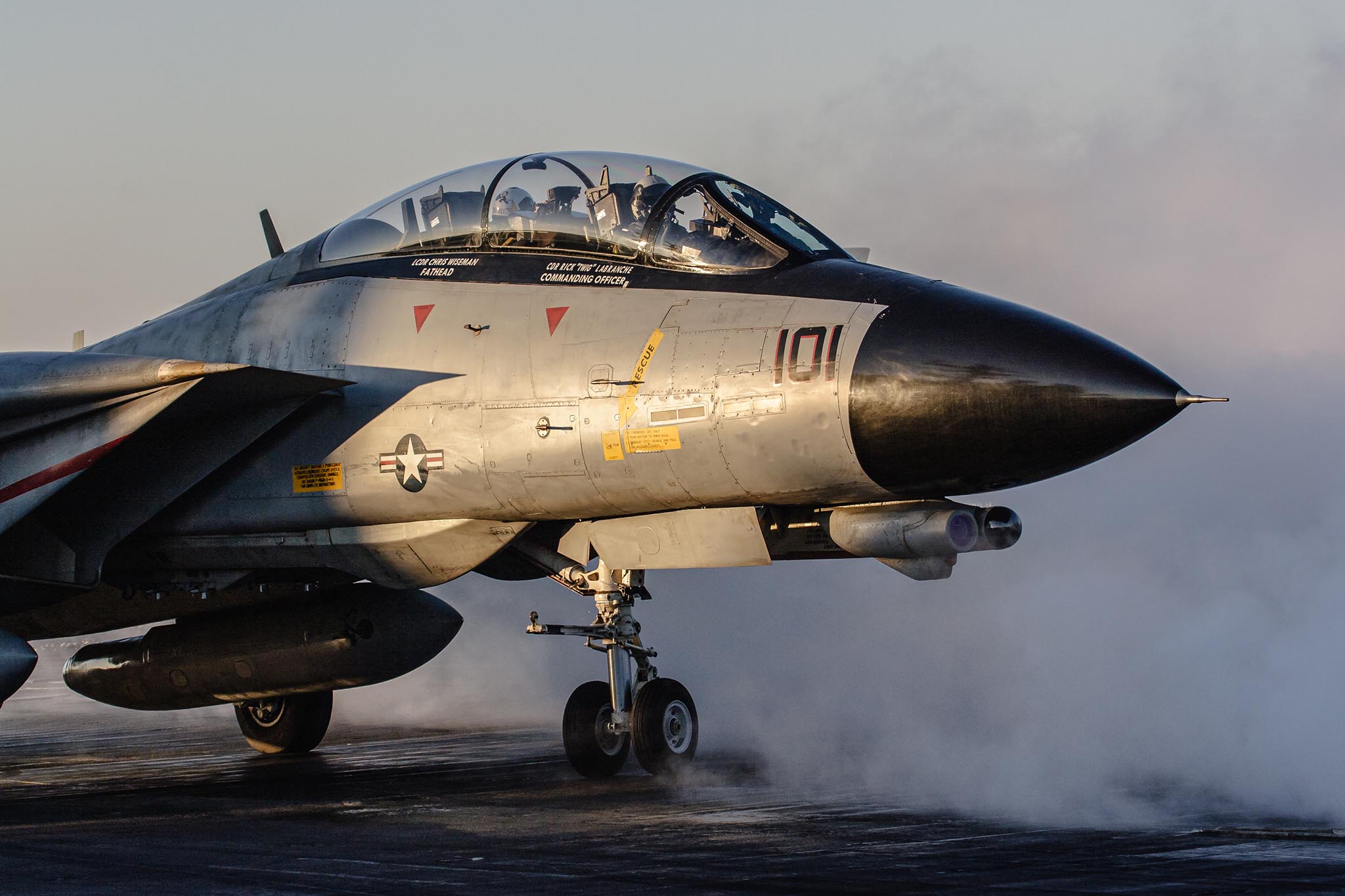 'Felix 101' F-14D Tomcat (164603 'AJ-101') of VF-31 the 'Tomcatters',
the last Tomcat squadron, about to depart on its final fully operational sortie.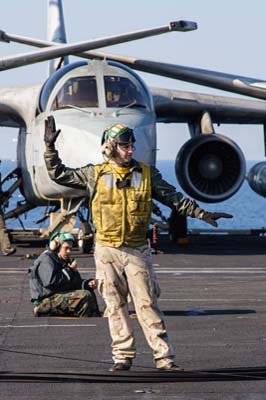 The USS Theodore Roosevelt (TR) and known as 'Big Stick' was returning to its home port of Naval Station Norfolk, Virginia after a six-month cruise to the Arabian Gulf. The Carrier Strike Group was supporting operations 'Iraqi Freedom' and 'Enduring Freedom' as well as conducting Maritime Security Operations (MSO) in the Gulf. Their aim was to deny international terrorists use of the maritime environment as a venue for attack or to transport personnel or weapons, we were told.

Often described as the most dangerous working environment on the planet, flight deck operations are held under a very strict safety regime. As a photographer I was escorted at all times once on deck.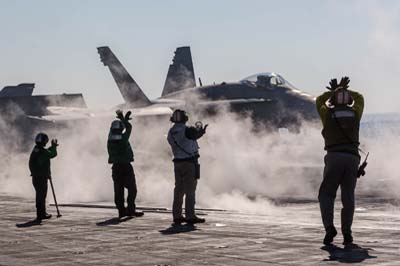 The equipment issued during my safety briefing was, a cranial, ear defenders, goggles and a life jacket. Prior to going to the flight deck, I was warned to stay within the certain areas. Also, to not cross-designated lines, otherwise a 'foul deck' would be declared and I would be taken below. This final comment certainly focused the mind. Should we to be caught by jet blast, I was advised to not run away, but to get down on one knee. If blown over you are to lie flat and whilst the jet blast might be hot, apparently it would not burn. The life jacket had a small hole in the back designed specifically to enable you to be pulled back easily. We were also warned not to use flash photography on the flight deck, as it could be a distraction to pilots and crew. night-vision goggles (NVGs) are used extensively at night and flash will cause the crew considerable discomfort to sat the least.

Fine, I was now ready to go. During flight operations, I was frequently pulled and pushed down and generally manhandled in a very reassuring way, to ensure my personal safety. On the flight deck during operations taxiing aircraft can surround you, as they position to their allocated catapults. The flight deck is also very noisy and so hand signals are used when radio communication is not available.

Above left and right: The crew test the steam powered catapults, prior to the first launches of the day.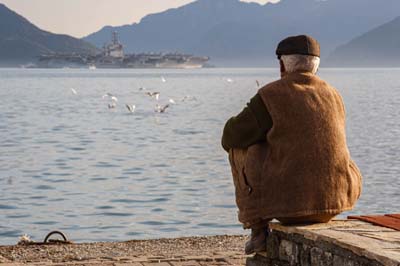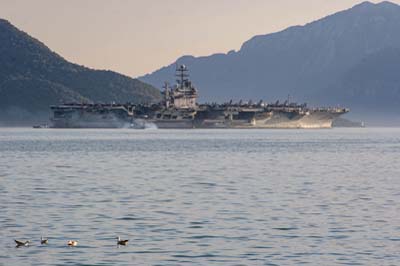 This was my first view, along with the local fishing community at the small port of Marmaris in Turkey, of this immense aircraft carrier.

CVW-8 comprises of around 85 aircraft;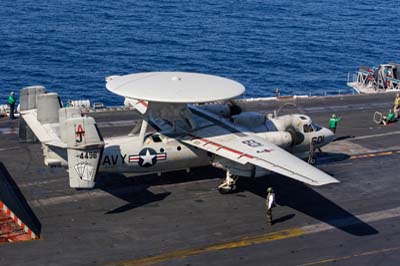 Northrop Grumman F-14D Tomcats of Fighter Squadron (VF) 31 the 'Tomcatters'
Grumman F-14D Tomcats of Fighter Squadron (VF) 213 'Black Lions'
McDonnell Douglas F/A-18C Hornets of Fighter Strike Squadron (VFA) 15 the 'Valions'
McDonnell Douglas F/A-18C Hornets of Fighter Strike Squadron (VFA) 87 the 'Golden Warriors'
Lockheed S-3B Vikings of Sea Control Squadron (VS) 24 the 'Scouts'
Grumman E-2C Hawkeyes of Carrier Airborne Early Warning Squadron (VAW) 124 the 'Bear Aces'
Grumman EA-6B Prowlers of Electronic Attack Squadron (VAQ) 141 'Shadowhawks'
Sikorsky SH-60F/HH-60F Seahawks of Helicopter Anti-Submarine Squadron (HS) 3 the 'Tridents'
Grumman C-2A Greyhounds of Fleet Logistics Support Squadron (VRC) 40 Detachment 1 the 'Rawhides'.

First stop was Vulture's Row a balcony situated near the top of the 'island' which is about 150 feet (46 m) tall and 20 feet (6 m) wide at the bottom. From here you are able to get excellent approach and landing shots, as well as the catapult launches.
Above right: Departing first on Catapult 3 E-2C Hawkeye (164496 'AJ-601'). The Hawkeyes are first to leave and last to return on any missions.
Left to right: Hawkeyes are often followed by the launch of S-3B Viking (159755 'AJ-707').
Left to right: The first arrival of the day was the Carrier Onboard Delivery (COD) flight to bring in visitors and supplies. It is C-2A Greyhound (162158 '44').
Prior to a mass launch the aircraft are placed behind each catapult to enable then under their own power to position on their allocated catapults.
Left to right: F-14D Tomcat's (161163 'AJ-205' and 164348 'AJ-203') are moved into position by the Blue shirts, under the supervision of the yellow shirted traffic director.
The back row is almost in position. Note: Tomcat '102' in the foreground on left is armed with air to air Sidewinder missiles. This aircraft was on alert status 'Alert 60' (the lowest), which means that it can be airborne to protect the carrier group within 60 minutes. Alert statuses of 30, 15 or 7 minutes are employed according to the perceived threat.
'Felix 101' F-14D Tomcat (164603 'AJ-101') is on the move.
I was positioned in the middle of the flight deck, alongside catapults 3 and 4, for the first main launch of 19 aircraft at 13:45. All four catapults were in use and the launches were made in very quick succession. 'TR' has four steam powered catapults each capable of propelling an aircraft from 0 to 160 MPH in two seconds. With all four catapults in use it is possible to launch an aircraft in every 20 seconds.
Left to right: Tomcats, Hornets and Prowlers launched from Catapults 3 and 4.
The crew pride themselves on total teamwork. There are seven groups of people working on the flight deck. For easy identification each group wears a different colour jersey.


White shirts are landing signal officers and safety observers,
Yellow shirts are catapult, arresting gear officers and traffic directors,
Blue shirts are tractor drivers and elevator operators,
Green shirts are aircraft maintenance and arresting gear crews,
Brown shirts are aircraft crew chiefs,
Purple shirts are refuellers and are known colloquially as 'grapes',
Red shirts are weapons handlers and crash crews.
Left to right: A brown shirted crew chief cleaning the windows of a S-3B Viking. Green shirted maintenance and arresting gear crew doing their stuff. Finally after a recovery phase, everyone joins in an intensive Foreign Object Damage (FOD) check of the flight deck.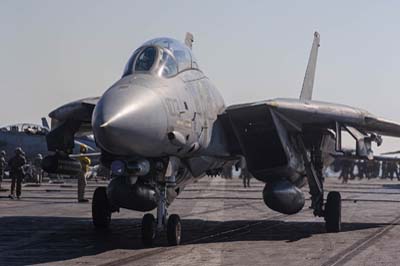 The flight deck is 1,092 feet long covering an area of 4.5 acres, however the landing area is just 750 feet in length, with four arresting wires. For the recoveries I moved to the Landing Safety Officer (LSO) platform and was positioned just in front of the first wire. The LSO is responsible for making certain that the flight deck is clear and ready to receive aircraft. To create optimal landing conditions the carrier is steered into the wind, for some of our recoveries it resulted in impressive near 180 degree turn just minutes before the first recovery. 25 to 40 knots is ideal, with weaker wind speeds the ships speed is increased to compensate. The pilots when landing their aircraft slam the aircraft on to the deck aiming for the third arresting wire. Pilots will select full power on landing as a precaution, should they miss all four wires and need to go around again. All landings are marked by the LSO and entered later on a board for all to see in the squadron crew rooms. At the LSO platform you are less than a 20mm wide angle shot away from the recovering aircraft. Shutter speeds and lens apertures need to be carefully considered, to freeze the action and ensure a sufficient depth of field.

At the end of a recovery, the Air Boss who is in charge of flying operations announces "Recovery Complete, - Great Job!" A review of my images later in the day confirmed whether or not I had done a great job, the close proximity of the aircraft means that panning is no easy task.
Left to right: F/A-18C Hornet (164675 'AJ-401') of VFA-87 'Golden Warriors' on approach. F/A-18C Hornets (164632 'AJ-410' and 164669 'AJ-411') perform touch and go approaches, (note the arrestor hook has not been lowered). F/A-18C Hornet (164661 'AJ-305') of VFA-15 'Valions' with hook lowered.
Left to right: F/A-18C Hornet (164675 'AJ-401') has caught the arresting wire but is still on full power just in case, F/A-18C Hornet (164643 'AJ-302') and two images of F/A-18C Hornet (164644 'AJ-406').
Left to right: 'Felix 101' F-14D Tomcat (164603 'AJ-101', 164342 'AJ-100' and two of 163902 'AJ-107') all from VF-31 'Tomcatters'
Left to right: F-14D Tomcats (159600 'AJ-111' of VF-31 'Tomcatters' and a sequence of 161163 'AJ-205' of VF-213 'Black Lions').
The 'Scouts' Final deployment
Whilst the Tomcat has naturally taken all the limelight regarding it's final cruise and eventual retirement, it should not go unreported that VS-24 'Scouts' S-3Bs are also making their final deployment aboard the USS Theodore Roosevelt prior to their planned disbandment in 2007. The S-3 Viking is a multi-role jet offering day and night surveillance, electronic countermeasures and air-to-air refuelling. Like the Tomcat it has seen over 30 years service and is due to be withdrawn in 2009.
Left to right: S-3B Viking (160602 'AJ-706') sequence of three landing shots.
The EA-6B Prowler is used for electronic warfare with an extensive electronic counter-measures suite designed to detect, jam and destroy enemy radar systems. Three Prowlers were left behind in Iraq until USS Ronald Reagan was able to relieve them, they rejoined when TR was in the Mediterranean during my embark.
Left to right: Three images of EA-6B Prowler (163033 'AJ-501') of VAQ-141 'Shadowhawks' as it arrives from Iraq. EA-6B Prowler (158542 'AJ-502') at rest at the end of the day.
Designed for airborne early warning (AEW) to extend the radar range for the carrier group, the E-2 Hawkeye first flew in 1960 and entered service in 1964 as the E-2A. The latest variant the E-2C has turbo-prop engines enabling it to fly mission of up to 5½ hours in duration. The latest APS-145 radar, introduced in 1976 can monitor 150,000 square miles (390,000 km2) at any one moment. Despite the design being over 45 year old, future developments are in the pipeline. The E-2D will be lighter due to the introduction of modern composite materials and will employ updated radar and communication systems. The first of the 75 E-2Ds on order is expected to make its first flight in mid 2007.
Left to right: E-2C Hawkeyes (163697 'AJ-602' and 164496 'AJ-601') arrive at the end of their sortie.

Launches continued through the evening and into the night.
Left to right: F-14D Tomcats of VF-31 (163902 'AJ-107' and 164603 'AJ-101') depart from Catapult 3. Tomcats don't need to use afterburners for take-off, unlike the Hornets (see below).
Left to right: F/A-18C Hornets (164675 'AJ-401') of VFA- 87 'Golden Warriors' departs with (164629 'AJ-301') of VFA- 15 'Valions'
Left to right: F/A-18C Hornet of VFA-15 (164655 'AJ-304') is taxiing up to the catapult. An F-14D Tomcat is about to be launched from Catapult 1, S-3B Viking (159732 'AJ-704') arrives and a F/A-18C Hornet (164643 'AJ-302') of VFA-15 about to be launched into the setting sun. (DSLR x1.6 sensor + Canon EF 28-135mm (28mm) 1/25 f3.5 ISO 800).
Left to right: C-2A Greyhounds during their frequent COD (Carrier Onboard Delivery) flights.

The final day of my mini-cruise, arriving in Souda Bay to dock.
Left to right: SH-60F Seahawk (164455 'AJ-613'), EA-6B Prowler (163034 'AJ-500'), F-14D Tomcat (161166 'AJ-207') and S-3B Viking (159732 'AJ-704').
Everyone loves the Tomcat, the crew giving some final love and affection for an old friend.
TR Returns Home


USS Theodore Roosevelt arrived home on March 10 and four squadrons flew to NAS Oceana with two others departing to NAS Chambers Field. A mass fly past of 22 Tomcats marked this momentous occasion. During it's six month cruise, 5,412 sorties were flown amounting to 19,362 flight hours all in support of Operation Iraqi Freedom (OIF) and Maritime Security Operations (MSO). The Tomcats of VF-31 and VF-213 completed 1,163 combat sorties totalling 6,876 flight hours. This cruise was TR's ninth deployment since it was commissioned in 1986.

TR is powered by two nuclear reactors, which produces steam to power everything from the catapults, heating the water for the crew to powering the turbines which propel the ship of speeds up to 30+ knots or 34.5 mph The ship carries enough nuclear fuel to last for 20 years; consequently TR is nearly due for her first refuelling. Her crew totals 5,700 of which 2,500 are assigned to the air wing.
On returning to their home land base of NAS Oceana VF-213 will work up on the two seat F/A-18F Super Hornet in April and should be operational or 'safe-for-flight' in September 2006. VF-31 will remain operational on the Tomcat till transitioning to the single seat F/A-18E in October and should be 'safe-for-flight' in April 2007. Until then there new slogan is, "The Last Cat Standing."

Special thanks must go to everyone who assisted me during the embark and to those who made it all possible,
especially to Lt. Christopher Servello, Lt. Fred Kuebler and to Lt. Justin Cole.

Philip Stevens
Target Aviation Photography


Addendum:
164342 'AJ-100' went to 'Wings Over Miami Air Museum' at Kendal-Tamiami Executive airport October 2006. The flight to nearby to Opa-locka on October 15, 2006 (before transporting it to the museum) was the last flight of the last active F-14 Tomcat.
164603 'AJ-101' went to American Air Power Museum, near Republic Airport at Long Island, New York.
163902 'AJ-107' went to Crane Weapons Station.
164348 'AJ-203' went to AMARC March 28, 2006.
161163 'AJ-205' went to Prairie Aviation Museum, Bloomington, IL on April 16, 2006.
161166 'AJ-207' went to Carolinas Aviation Museum, Charlotte, NC April 12, 2006.
All but one of the remaining VF-213 Tomcats went to AMARC or other museums.