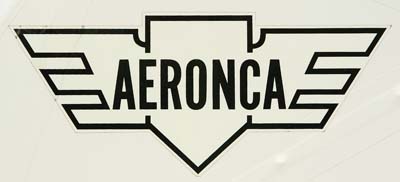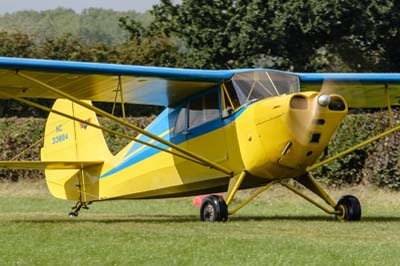 Croft Farm holds a very well attended 'Defford Air Day' each summer. Today the 'Aeronca Club of Great Britain' chose to visit the farm strip for the first time as one of their half dozen fly-ins of the year. The weather, which was showery with low clouds and gusting wind did little to encourage pilots to take to the air. By mid-day the Aeronca's started to arrive flying from Cornwall, Mid and South Wales and Wolverhampton.
Pete White Hon. Club Secretary of the Aeronca Club of Great Britain was one of the first to arrive from Bodmin in one (the other is G-IVOR) of his yellow and blue Aeronca 11AC Chiefs (NC33884), see right.
Aeronca History
Founded in 1928, the Aeronautical Corporation of America was first located in Cincinnati, Ohio. The Aeronca C-2 monoplane was produced from 1929 followed by C-3 in 1931 and the Scout in 1937. Following a flood in 1937 production moved to Middletown, Ohio resuming in 1940 and a name change to Aeronca Aircraft Corporation in 1941. During the war the Aeronca built 1,400 (L-3, L-16 and O-58) light observation and liaison planes for the US Army. By 1945 the very successful 7AC Champion and 11AC Chief models were in full production, sharing 80% common parts. By 1951 8,000 Champions and 2,000 Chiefs had been sold. Aeronca ceased aircraft manufacturing in 1951, selling the design rights to Champion Aircraft Corporation in 1954, who went on to produce the Citabria. Aeronca in its 23 years of operation produced 17,408 aircraft with 55 models.