The Royal Netherlands Air Force F-16 Solo Demo Team flew its first display in 1979. For the first seven years the assigned display aircraft was not special painted, however in 1986 a special scheme was designed for that season's aircraft and F-16 serial J-616 was given special markings to celebrate 35 years of 311 Squadron. In 1987 smoke-winders were introduced for the first time. From now on the display aircraft and the spare jet were given a special scheme every two years. Each scheme was unique but none were as spectacular as the current 'Orange Lion' design which was applied to just one aircraft (J-015) in 2009.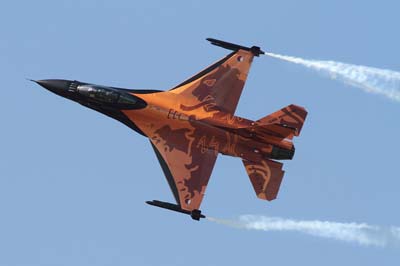 F-16AM Fighting Falcon (J-015) 'Orange Lion' during the RIAT 2010 display at Fairford UK.

Up until 2009 as with the change of schemes the display pilot was also changed every two display seasons, the squadron hosting the team was also rotated between each fighter squadron its air base.
Captain Stefan 'Stitch' Hutten of 312 Fighter Squadron based at Volkel air base completed his second season this year as the display pilot for the RNLAF F-16 Demo Team. After his final display at the Sanicole air show at Leopoldsburg he agreed to join our Air Academy Skyvan flight for a final air to air photo shoot. For seven wonderful minutes 'Stitch' stuck close to the back of the camera-ship, even employing smoke-winders. Occasionally he applied his air brakes to maintain a safe distance. His final manoeuvre was as spectacular has were his displays, he unnoticeably dropped back a little and simultaneously pulled his stick back while hitting the throttle to climb vertical and he was gone....Wow!
Cpt 'Stitch' Hutton summed up his time with the demo team; "It has been an amazing experience and incredible honour to have flown the RNLAF F-16 Demo the past 2 years! We've visited over 14 countries, all NATO partners, and flown over 120 displays! I was amazed by the enthusiasm of you during all those events. Words cannot describe the feeling to fly one of the most advanced fighters today in front of hundreds of thousands of people. Your support, kindness and energy made us smile, every day!"
The 'orange lion' scheme has now lasted an unprecedented five display seasons, plans for the 2014 season have yet to be announced. 'Stitch' is fully aware of the need for the current range of defence budget cuts, funds for display teams may in the future be reduced or even removed. He also understands the requirement to keep the support of the Dutch people behind the military and the F-16 Demo Team is one of the best ways to demonstrate to their people a fighter pilots flying skills. As a final message he wrote; "Air Forces around the globe experience huge budget cuts. Air shows in the future might become a rare phenomenon. Even for us it is still unsure what will happen in the near future. It has been my personal experience that giving you an insight in what we do is essential to understand why defence is important. Not just from a demo point of view but from a military perspective.