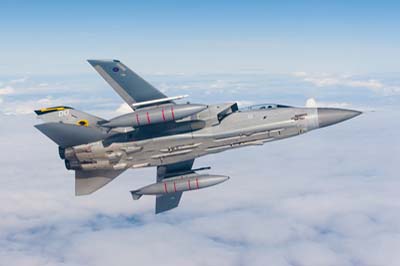 The Tornado F.3 is the Air Defence Variant (ADV), and is typically armed with short-range (Sidewinder and ASRAAM) and medium-range (Skyflash) air-to-air missiles. 100 RAF F.3 Tornados have been upgraded to carry AIM-20 AMRAAM air-to-air missiles.
At the start of 2005 the Tornado F.3 was in service with the RAF at Leuchars (43(F) Squadron, 56(R) Squadron and 111(F) Squadron) and Leeming (11(F) Squadron and 25(F) Squadron). Additionally 1435 flight at Mount Pleasant, Falkland Islands has four F.3s based there. In July 2004, the MOD announced that 11(F) Squadron would be disbanded in October 2005.
Plans are in place, but are subject to constant review, to withdraw the Tornado F.3 in 2009, as the Typhoon takes over. 56(R) and 25(F) disbanded in April 2008 with its aircraft and operations taken over by 43(F) Squadron.