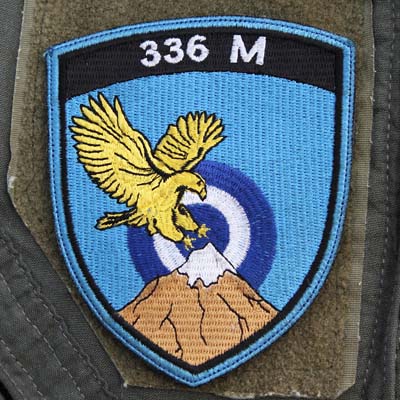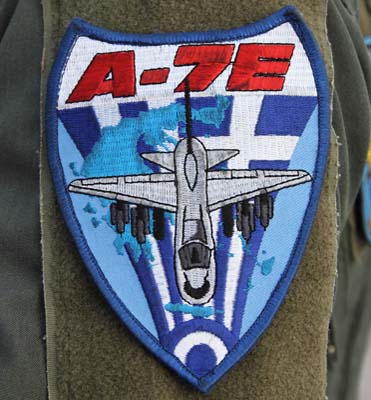 The Hellenic Air Force (HAF) received 60 new A-7H Corsair IIs from 1975, these were based on the A-7E but did not have air-refuelling capability. They were initially based at Larissa with 347 'Perseas' Squadron and at Souda with 340 'Fox' and 345 'Lailaps' Squadrons. These original aircraft remained in service till 1997 when the surviving aircraft were put in to storage at Agrinio and Tanagra. In 1980 the HAF also took delivery of five new two-seat TA-7Hs which were flown until 2007 before they too went into storage.
In 1992 60 A-7Es were acquired along with six TA-7Cs these aircraft that had previously been operated by the USN. These aircraft were delivered between 1992 and 1994 to Araxos air base for 116 Combat Wing, 335 'Tiger' Squadron and 336 'Olympos' Squadron. They replaced the Lockheed F-104G Starfighter which was eventually retired in March 1993.
A further six TA-7Cs were added to the fleet, taken from AMARC storage in the Arizona desert in April 2001. In 2002 all the remaining A-7s were transferred to Araxos air base. 335 Squadron ceased flying the A-7 on February 27, 2008 many of their aircraft bolstered those operated by 336 Squadron and surplus aircraft were put in to open storage at Araxos. 336 continues to fly the A-7E and TA-7C and has now the distinction of being the last unit in the world to fly the A-7 Corsair II.
The A-7's varied role with the HAF includes close air support (CAS), tactical support maritime operations (TASMO), ground attack and bombing operations. The A-7 can conduct in-flight refuelling operations both as receiver and tanker to extend its range.
The A-7E has an internally mounted M61A1 20 mm six barrel cannon, six wing pylons and two fuselage launch stations. The pylons can carry a large single weapon, multiple racks capable of six weapons per rack, or triple racks with three weapons per rack. The wing pylons can carry four wing-mounted 300 gallon fuel tanks and a combination of a wide range of general-purpose bombs totalling 15,000 lb (6,800 kg), including; up to 30× 500 lb (230 kg) Mark 82 bombs, Paveway Laser-Guided Bombs (LGB), AGM-45 Shrike, AGM-62 Walleye, AGM-65 Maverick, AGM-88 HARM, and GBU-15 electro-optical glide bombs. It has been reported that Greece also imported over 4,000 CBU-55B cluster bombs between 1970 and 1995. The AFDS (Autonomous Free-flight Dispenser System), containing 16 BLU-108B bomblets was also certified for the A-7. Greece previously participated in NATO nuclear weapons sharing using the A-7 to deploy US tactical B.61 nuclear bombs, in 2001 for strategic reasons they were put in to storage. They were optimised for the AIM-9L/P Sidewinder for self-protection utilising the two fuselage launch stations.

After 1986 the A-7Es were equipped to carry the AAR-45 LANA (Low-Altitude Night Attack) FLIR (Forward Looking infrared) pod which projects an amplified light image on the HUD and in conjunction with radar, it enables terrain following down 200 feet (60m) at to 460 mph (740 km/h). Smart weapons in conjunction FLIR they can be delivered day and night.