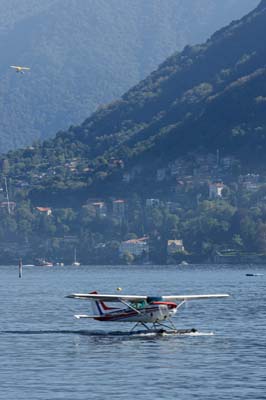 Italy has a fine seaplane heritage dating back to the earliest flights of water based aircraft. You only have to visit the fabulous Italian Air Force museum (Museo Storico) at the former seaplane base at Vigna di Valle on Lake Bracciano to see a fine collection of indigenous aquatic flying machines.

The 'Aero Club Como' is based at Como on the southern lake shore of Lago di Como in Northern Italy and is the home of a variety of water based aircraft. The fantastic setting offers some stunning photography. I was able to take a couple of brief breaks from a family holiday to take these images. The whole area is very accessible offering some wonderful opportunities for photography. During my short times there I certainly did not explore every avenue, which could have included hiring a seaplane or boat. Instead I walked around the immediate area, to get shots of the frequent flying activity. The backdrops are fabulous, Lake Como is surrounded by steep sided mountains, with historic villages and towns scattered along its shoreline.

An aero club with a remarkable history
Although Como can trace it's aviation connections to well before, with flight experiments, and balloon flights, it was in 1913 that the first seaplanes flew from Lake Como, taking part in a European seaplane competition. The Gran Premio de Laghi race meeting for idrovolanti (seaplanes) as it was called, was won by French aviator Roland Garros in a Morane-Saulnier fitted with floats. In the 1920s a hangar was constructed for the based seaplanes, but it was not until 1930 that 'Aero Club Como' was formed to formally provide pilot training. In those days they had a fleet of Caproni Ca 100 Idro float-planes, and later sunk by the German's in the lake. After the World War Two the club re-equipped with some more, and now aging, Ca 100s, before taking delivery of the Macchi MB 308. Post war at the Aero Club amphibian aircraft consisted of the Republic Sea Bee and Piaggio P 136. In more recent years the Lake Buccaneer, Maule M7, Lake Renegade, PA-18 Super Cub and Cessna's; 150, 172, 180 and 185 and more, have all flown with the Aero Club.