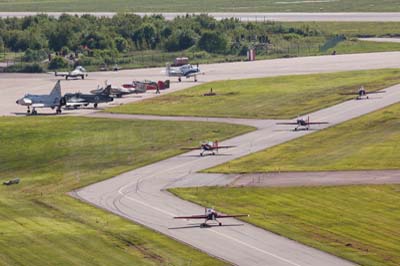 The Aeroseum opened its doors and hosted the two day Aero Show on June 8 and 9, the first for three years. The aircraft were flying from the Säve Depot opposite to the current Göteborg City airport terminal at the site of the former military air base. The visitors were able to inspect the Aeroseum's preserved aircraft in their underground rock shleter built during the height of the Cold War in the early 1950s.

The display aircraft were significantly boosted by the particiaption of the Swedish Air Force Historic Flight which flew their; Viggen, Vampire Sk 60/SAAB 105, Hunter, Safir, Bulldog and Harvard. The Swedish Air Force displayed a C-130 Hercules and Gripen. Patria / Flygvapenmuseum flew a formation of two Schweizer 300C / Hughes 269C and two AB.206s. Biltema participated with their Spitfire and recently acquired Mustang flying together and included a mock dog fight. They were followed by the Royal Jordanian Falcons Aerobatic Display Team with their four Extra 300s and lots of smoke.
For me it was a very enjoyable show, the Viggen alone made the trip to Sweden worth while. The Aeroseum staff also made me very welcome and I am particularly grateful to my two local guides who did their best to give me some superb access for photography.

Unfortunately a recently erected security fence some ten feet high was situated in front of the spectators, however a spotter/media area for around 20 was made available on a rock which was level with the top of the fence and gave a better view for photographers.