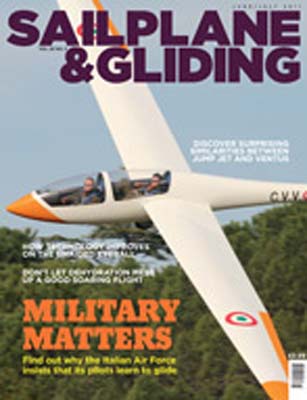 Major Filippo Zuffada, Commander of the Italian Air Force Gliding Centre at Guidonia-Montecelio, wants to combine his vast gliding experience with fresh ideas for the benefit of instructors and students.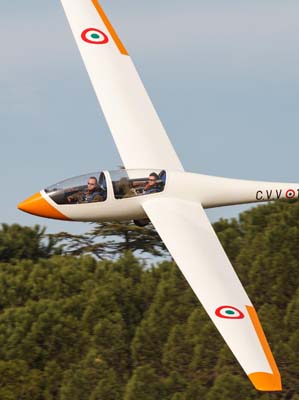 The Italian Air Force's (Aeronautica Militare - AMI) Gliding Centre (Centro di Volo a Vela) is located at the historic airfield of Guidonia-Montecelio located to the north east of Rome. Here the AMI's potential plots are trained to fly gliders writes Philip Stevens.

In November 2010 Major Filippo Zuffada returned Guidonia as the new Gliding Centre Commander. Maj. Zuffada was born in 1970 and at 20 joined the AMI for the four year flying training course. Following graduation he was posted to Decimomannu, Sardinia and for the next three years piloted helicopters for Search and Rescue operations. He later completed nine years at the Gliding Centre at Guidonia as an instructor pilot before transferring to 61st (Jet Training) Wing (61║ Stormo, 213║ and 214║ Gruppo) at Lecce as an instructor on the Aermacchi MB-339A jet trainer. His varied flying experience totals around 1,000 hours on helicopters, 1,000 hours on gliders, 1,000 hours on single-engine propeller aircraft and 1,500 hours on jet aircraft. More remarkable and why he is a major inspiration to those under his command and to his students is that he has twice been runner-up in the annual Military World Gliding Championships the 'Campionato Mondiale Militare di Volo a Vela' for air force flying schools. He is a highly skilled glider pilot.

Major Zuffada is a firm believer that learning to fly a glider is very important for student pilots as it teaches them how to fly an aircraft and improve their general flying skills; "The glider pilot needs to use all the flight controls, especially the pedal rudder. When flying a powered aircraft, the pilot uses the rudder very little. You learn 'Energy Management' that is Altitude versus Speed." He added that the pilot has to be focused when flying a glider; "You don't have a second chance in a glider when in the approach, the pilot must have good parameters all the time."