The tour was to start at Popham in the south and fly north to White Waltham, North Weald, Old Buckenham, and on to Fenland. From here the Luscombe flight would turn west for Leicester and go on to Wellesbourne Mountford where they were to night stop. Early next morning the tour would continue to Lane Farm, Shobdon, Upfield Farm, Eaglescott finishing at Farway Common on the Sunday. I was to find out later that 18 of the vintage aircraft were to take part in the tour, but not all were able to complete the full two day event. The Luscombe is an aircraft whose modern looks and design hide its age. Don Luscombe started designing and producing racing aircraft in the late 1920s, starting with the Monocoupe when part of the Monocoupe Aircraft Corporation, before moving on to the Phantom in 1934 which was manufactured till 1941. However in 1939 Don Luscombe was lost control of his company and Leopold Klotz took over. They were later to go bankrupt in 1949 with Silvaire Aircraft taking control in 1954.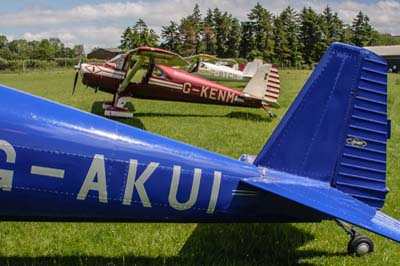 The Luscombe 8 was Don Luscombe's biggest success, it had an all metal fuselage and fabric covered wings. Production began in 1938 in Trenton, New Jersey before moving to Dallas, Texas with the model 8, 8A (1939-1949) and the 8B (1940-1941). Production continued to 1940 with the 8C (1940-1942) and 8D (1941-1945) models. With Leopold Klotz the 8E version was produced and later the 8F in 1948, production continued with the 8F Silvaire till 1960. Around 4,500 8As and 5,500 8Es were built. The Luscombe 11A was in production from 1946-1949 and continues with the 11E to the present day.

Left: In 1947 squared tail units were introduced, however as these tails are interchangeable the aircraft still flying today's can have either tail fitted. In foreground Luscombe 8E with its square tail and a modified Luscombe 8EF with an older round tail fitted.