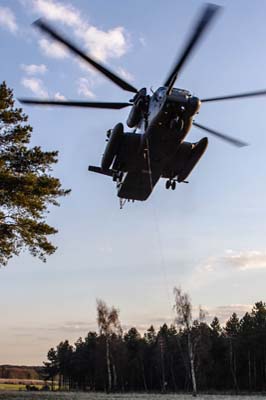 "I have been around"
The MH-53Ms had been set up with three 7.62mm 'miniguns' specifically for use on the firing range later. After the briefing we were able to talk to our 'minder', Aerial Gunner TSgt Art Kennedy. We were told that he had quote, "been around." Kennedy had been in maintenance for the first ten years of service in the Air Force. "So why did you join Special Operations ten years ago?", "I just wanted to fly." At this point I thought there was perhaps easier ways to fly. "What was your most memorable mission?" Kennedy was a little reticent or circumspect, reluctant to discuss the missions that they had participated in around the world. "Pretty well every mission is memorable", I was told. "Come on, there must be a mission that is your most memorable?" "Well there is one from ten years ago, when I was with 58th SOW at Kirtland AFB in New Mexico (58th SOW are part of the Air Education and Training Command (AETC) and tasked to provide lead-in training for special operations aircrew) I was doing my check ride to graduate out of school house. There were two evaluators and one said that blood will be spilled tonight, obviously referring to the hard effort that was required. Out on the range, half way through the check ride, my gun jammed and I tried to clear it, but in vain. The evaluator stepped in with a power tool and pliers to remove one of the pins from the repeater. In his effort to remove the pin the tool slipped and he struck me with his, between my NVGs and my lip mike. It was December 12 and it was very cold and my nose was running. When I put my glove to my nose it was covered in blood and also running down my clothes. I went to the front of the Helicopter sat down, blocked up my nose and in ten minutes I was back in the game. Everyone saw the incident, even the Commander. At the end of the check ride the Commander said I had graduated and was ready to go. I have been an aerial gunner ever since.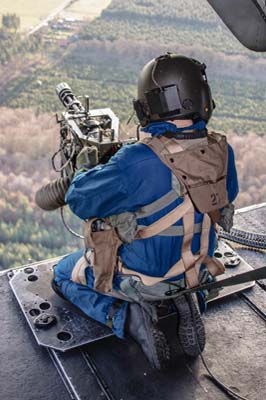 When I asked what his most memorable mission was, I was expecting it to one from Iraq or Afghanistan. "So what was the most dangerous mission you have been on"? "Oh Jesus, that was just last month down in Iraq. Flying around in the dark, you don't know who or what is trying to get you. There are a lot of bad people out there. The most frightening thing is the not knowing. We fly to certain areas where the threat is high. It is something you have to prepare yourself for you just do your job. Your biggest fear is ground to air missiles, you just have to watch them and trust in our defensive equipment. I have had a couple of missiles fired at our helicopter, which we managed to evade and they missed us and we got away to fly another day."
Equipment issued included; a helmet with two visors (clear and tinted) and lip mike, jacket, gloves, harness, life jacket. We were warned it was going to be cold and possibly wet. At way point 14 we were to conduct a series of night water landings, four miles (6 km) off-shore for 30 minutes. When inflatable rubber craft are launched the helicopter hovers just above the waves at a height of one foot (300mm), expected to be no more than three feet (1m) that night, out of the rear loading door. It is not uncommon for an amount of water to wash into the helicopter itself. I was told that on one occasion the water was knee deep in the cabin at one point.
We went out to the aircraft two hours before we were due to depart. During this time the aerial gunners prepare for the mission, by the stowing of equipment, including rope ladder, eight signal distress flares and gun ammunition. Everything is checked.
I was given my safety briefing. "Should we ditch, wait until everything has stopped moving before attempting top leave. Moving rotor blades are the obvious hazard." The helicopter may even turn over during this period. With chemical lights marking the sides of the cabin you should follow yellow cords strung along the inside of the cabin and leave by the large rear open door. Thin Perspex windows 3mm (1/8") think can easily be kicked out offering an alternative exit point. If the pilots are still in the cockpit don't attempt to leave that way, you won't get passed them! The two side aerial gunners have there own opening to climb out from, if they have gone only then can you follow them.
Following comm. checks, engine start up is 30 minutes before departure to clean out the engines with cleaning agent. We taxi out for a ten foot hover check and with everything in order we were away....or so we thought!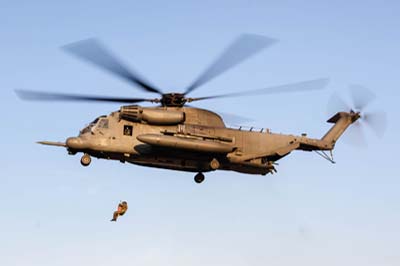 Keeping these Viet Nam era work horses flying is a major challenge, which ultimately ended in September 2007 for the Dust Devils groundcrew. Unfortunately on this evening one of the Pave Lows had technical problems which forced our mission in part to be aborted. To make the most of the situation we continued our flight to the STANford Training Area known as 'STANTA' to conduct some practice landings amongst trees combined with a search and rescue operation. STANTA is a battlefield complex near Thetford in Norfolk. There are a number of ranges used by artillery and attack helicopters and areas for manouevres and covers 30,000 acres and is available for use 350 days a year. Our sortie had been cut short on this occasion but the experience and value of the exercise had been exceeded my expectations.

Left: A crew member is lowered using fitted hoist. 1/4" thick cable with a breaking strength of 3750 lbs, however the limiting factor was the hoist's electric motor, which has a limit of 600 lbs before an explosive charge releases the cable.

AFSOC - the Future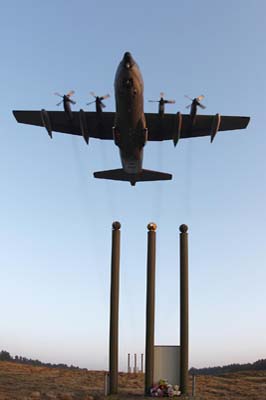 The 352nd SOG will continue to fly its MC-130H/P's from Mildenhall, aerial refuelling nearby RAF Lakenheath's recently arrived 56th RQS flying HH-60s. The 21st SOS's MH-53M Pave Low IV's were shipped out of Mildenhall by C-5 Galaxy bound for open storage at the Aerospace Maintenance and Regeneration Group (AMARG) at Davis-Montan AFB in Arizona. The rest of the Pave Low IV's of 20th SOS are expected to be phased out in 2008. On March 30, Senior Airman Evan Pinkerton became the last Pave Low student to graduate in the final class at 58th SOW/551st SOS at Kirtland, New Mexico. Pave Lows of the 58th SOW at Kirtland were retired in April and flown to AMARG.
The first operational CV-22B Osprey was received by 8th SOS at Hurlburt Field in December 2006 to replace their MC-130E Talons. 50 Ospreys will be delivered to AFSOC by 2017. The first AC-130U Spooky gunship was armed with the 30mm Bushmaster cannon which has replaces the 25mm and 40mm guns, a 105mm cannon is retained. "We are buying increased lethality at the same time we're improving reliability" said Lt. Col. Mike Gottstine, AFSOC's chief of strike/intelligence, surveillance and reconnaissance requirements. The aging 40mm Bofors cannon have been around in various forms since World War II. The 25mm cannon has continually suffered from a poor maintenance record. The Bushmaster fires 200 rounds a minute and is faster than the 40mm cannon it replaces. Flight testing with the 4th SOS of the AC-130U started in January 2007 and should be complete by July. Three more AC-130U should join the fleet by December 2007. It is hoped when funding allows that AFSOC's AC-130H Spectre fleet will have the 30mm cannons installed.
Announced in October 2006, AFSOC are looking at the feasibility of using lighter transport aircraft than the MC-130s. Some missions don't require the full capabilities of the MC-130. AFSOC sometimes will send small teams of personnel into a nation to assist the government with some kind of mission or clandestine task. A MC-130 sitting on the ramp in American markings can be a little too conspicuous. The Alenia C-27J and the CASA C-295 are two aircraft that are being considered.