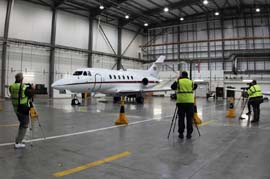 The third night photo shoot of the year organised by Phillip Dawe was one of the best, the Sécurité Civile Conair Turbo Firecat (Grumman Tracker) that had been billed for a number of previous events had finally made it to Northolt.

On arrival I was told of the list of aircraft that had cancelled at last minute, my first thought was at least the Tracker had arrived. The Belgian and German Sea Kings and the Polish Mil-14 were those that had not materialised. Having attended a number of the Northolt photo shoots it was only to be expected that some of the billed aircraft would not turn up. As can be seen from the images below there was still a wide range of aircraft attending and the organisers for once were not reliant on the based 32(TR) Squadron they remained in their hangar all evening.
Night photography adds a dimension to the images which is further enhanced when movement is involved. Propeller or rotary powered aircraft provide the extra dimension of movement and all the non-jet guest aircraft at the nightshoot each in turn was started up the aircrew.
More money was raised for the fund to restore the Battle of Britain Op's Room at this former World War Two fighter base thanks to the hard work Phillip Dawe put into making this event a very enjoyable one.

Phillip Dawe speaking at the following photo shoot in April 2012; "My greatest achievement was last October in getting the Firecat water bomber from Marseilles, it took two years. It was on then off time and time again, in the end I said when can you come and we will organise the event around you which worked." The Conair Turbo Firecat water bomber (a converted Grumman US-2B Tracker) is operated by the French Sécurité Civile and is based at Marseille in the south of France. They need to do training flights to stay current during the winter season. The fire season ends first week of October and training re-starts from the following April in time to be on task by mid May. Their maintenance also needs to be fitted in during their winter down-time. "It was well worth doing, one pilot was ex French Navy Etendard pilot the other ex Patrouille de France Alpha Jet display pilot."