The passion of Michel Pont - A collection of rescued aircraft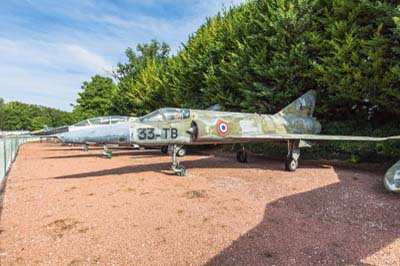 This Dassault Mirage IIIR No.323 purchased in 1986 was the first of many aircraft bought for Michel Ponts collection.

The aircraft museum in the grounds of Le Château de Savigny-Lès-Beaune 20 miles from Dijon in France is in an as idyllic place as you can imagine. The château itself although now showing its age was originally built in 1340 for the Duke of Burgundy, but after most demolished it was rebuilt in the early 1600s. It is open to the public and should be viewed along with the extensive aircraft collection outside. As the château's own wine can be purchased following a wine tasting this also adds to the pleasure of visiting this wonderful place. Wandering around the château's rooms some of which are filled with 250 or so motorbikes and 1,200 plastic models you will come across a rare HM.14 Pou du Ciel hanging from the ceiling. It was bought in 1987 with ten other aircraft that year, including the first Mirage IVA to be privately owned, another 15 aircraft arrived in the following year.

An extensive collection of 101 aircraft, according to museum staff (and my log), of mostly fast jets has been gathered together by Michel Pont since July 1986 starting with Mirage IIIR No.323. At 83 he continues to run his wine business with his five children. The collection consists mostly of former Armée de l'air jets that were surplus to requirements from the 1980s. Michel Pont has looked further for exhibits with aircraft rescued from Belgium, Switzerland, Germany, Portugal and the United Kingdom. Some have been re-painted on-site in spurious markings and others have been restored for transfer, sale or exhibition away from the château. In more recent years some jets from the former Eastern Bloc (Poland, Czech Republic, East Germany and Ukraine) have been added. Over the years I have visited this collection there have been some changes along with the additions. The place always feels like a work-in-progress with a number of jets sitting dismantled for many years in long grass from the day they arrived.

The logic for the collection appears to be of Michel Pont trying to save aircraft from the scrap man buying any he can find at a reasonable cost that he likes. There are many duplicates and some aircraft have been merged together to create a more complete example. In having duplicates he has been able to swap them with other collections. Pont employs three technicians and they are able to refurbish two or three of the aicraft each year, "All without any financial support or subsidy", says Michel Pont.

Even though most of the aircraft in the museum are exposed to the elements (Pont is prevented under preservation rule from building a modern extension to the Château) and the paintwork is fading and peeling we should be grateful that they are still in existence because without the effort and expense incurred by the owner many of these jets would surely have been scrapped many years ago. Michel Pont confirmed this, "Some of them were doomed to be destroyed", adding "It must be said that if they were not here, these aircraft would be converted into ingots of 50kg, these would not give the same pleasure for our visitors".