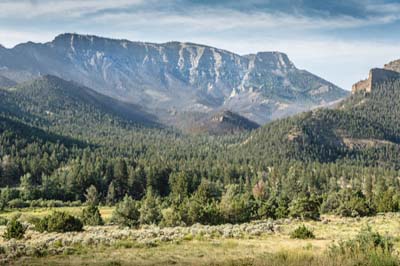 Clayton Mountain at 10,220 feet.


The 'June Fire' took hold 30 miles west of Cody, Wyoming at the foot of Clayton Mountain at 10,220 feet (3,115m) in the Absaroka range. Eventually 275 firefighters and their vehicles encamped a few miles east, were called to action. Also four helicopters, including a CH-54A Skycrane Helitanker, UH-60A Black/Utility Hawk and a Bell 205A-1 were used to drop water high on the mountain slopes, at the height of the fire around 100,000 gallons of water was dropped each day. An estimated 2,000 acres of woodland was destroyed before the fire was brought under control after around a week.

The June fire had spread quickly on July 19, boosted by gusting winds, hot and dry conditions and low fuel moisture in dense beetle-killed tree stands. The fire started about 1.5 miles south of Highway 14/16/20, in the North Fork Shoshone River drainage near to the east entrance to Yellowstone National Park and continued to grow over the next few days. High temperatures and dry conditions combined with rugged terrain made the blaze difficult to fight.