Deptford Down grass landing strip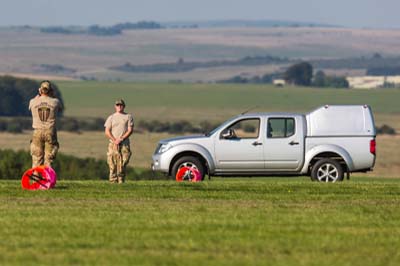 Reducing the width and positioning of the landing markers.
Situated near the centre of Salisbury Plain, Deptford Down is utilised by helicopters almost every day by units based within easy read of the remote grass landing strip. On this occasion the grass strip had been marked out with four Day-Glo markers indicating where the Lockheed C-130J Hercules C.5 should put down.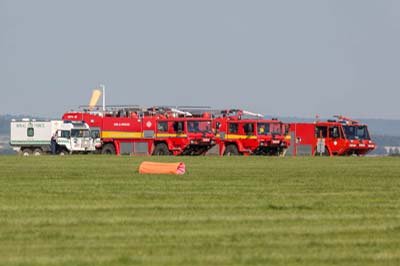 Support vehicles included from left to right; Pinzagauer RAF Ambulance, two Major Foam Vehicles (MFV) and a Rapid Intervention Vehicle (RIV) positioned at the mid-point of the runway.
Additional markers were placed at the turning point at the other end of the strip. The positioning and the width the markers were precisely measured using a hand-help laser device. The width was later reduced after several landings had been completed to simulate a reduced width air strip where an increase in landing skills was required.

Support vehicles for this exercise included; a Rapid Intervention Vehicle (RIV), two Major Foam Vehicles (MFV) and a Pinzagauer RAF Ambulance positioned at the mid-point of the runway. Two Air Traffic Controllers in radio contact with the aircraft were in their own 4X4 vehicle.

At 10:54 the C-130J (ZH882) made its first approach flying over the air strip at around 500 feet, followed at 11:00 by five touch-and-goes five minutes apart before it made its first landing at 11:26. The C-130 then back tracked and after a delay (for a possible crew change) it took to the air at 11:32 only to return five minutes later for another short landing. At 11:43 the C-130 was in the air once again to return at 11:49 for three touch-and-goes and another landing. At 12:10 it was airborne was once again returning for another landing at 12:15. 15 minutes later it lifted off returning again for just two touch-and goes and a landing. There followed three more touch-and-goes with a landing before it lifted off for the last time at 13:11.

After completing a para-drop at Everleigh DZ to the north the same C-130 Hercules returned at 16:00 for a series of five touch and goes all five minutes apart. With the markers nowreduced in width by the support team it returned at 16:35 for two more landings with back tracks before departing for good at 17:50.

The photography was from beside the grass strip following consultation with the ground controllers.