Extended article on Ascent Flight Training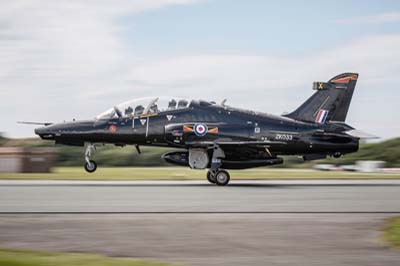 With the ISO knocked back to 100 and a shutter speed of 1/125th and f.11 and the background is effectively blurred to emphasize movement. After getting some safe 1/1000th second shots it was time to really test your panning skills. Although there is a high failure rate with numerous binned blurred shots if you have sufficient landings to play with it is well worth it.

Ascent Flight Training operations director Alasdair Shinner offers an insight on how a rookie pilot becomes a top gun at RAF Valley.
Ascent Flight Training is tasked to provide the highest quality aircrew training for the Royal Air Force in the most cost effective way. Ascent is a joint venture between Lockheed Martin and Babcock International and was awarded the contract to be the Training Service Partner (TSP) to deliver the UK Military Flying Training System (UKMFTS) programme, in partnership with the Ministry of Defence, (MOD) out until 2033. A former RAF fighter pilot Al Shinner with 3,500 hours flying experience which included operations in the Balkans, Falklands and the Gulf is fully equipped to handle the day to day challenges he faces at RAF Valley where student pilots learn to fly fast jet trainers. Students on graduation will transfer to a frontline squadron flying the Eurofighter Typhoon, supply to the older Tornado GR.4 squadrons has just about ended. Students now just starting their pilot training here could be lucky to be selected to go on to fly the world's most advanced combat aircraft, the Lockheed F-35B Lightning II.
The premise of the UKMFTS programme was to draw out efficiencies in the training pipeline without compromising on training output standards. Pilot training is costly and methods are changing as more and more technology is being introduced in to the cockpits. The analogue cockpit instrument dials that have been around for nearly a century are being replaced by digital computer screens known as 'glass cockpits' in the latest aircraft. The UKMFTS programme is procuring new aircraft with 'glass cockpits', featuring sophisticated digital displays that enable training aircraft to emulate the frontline aircraft. It is more cost effective to download training tools to training aircraft rather than use frontline aircraft for training purposes.

So how are Ascent able to reduce costs for the tax payer and yet meet the highest of standards of pilot training required by the MoD?

Pilot training is on frontline aircraft is the most costly, by downloading this training to less expensive training aircraft it has reduced costs. Another and key area where cost saving objectives are achieved is through synthetic training. Students, their instructors and the frontline pilots all regularly spend time learning or refreshing their skills 'flying' multimillion pound networks of flight simulators ranging from desktop workstations to full-mission multichannel dome simulators, in which pilots can experience what they do in the air. "The only thing it can't simulate are pulling G force when you turn hard", says Al Shinner. Simulators eliminate fuel bills, aircraft running costs, flying accidents and the many ancillary services needed to keep aircraft flying safely.


The computerised digital 'glass cockpit' of the Hawk T.2 taken with the permission of the pilot at the end of his mission. The same shot was taken of an empty cockpit but that does not have the same interest.

The UKMFTS programme is procuring new aircraft with 'glass cockpits', featuring sophisticated digital displays that enable training aircraft to emulate the frontline aircraft. It is more cost effective to download training tools to training aircraft rather than use frontline aircraft for training purposes. At RAF Valley students and their instructors fly the two-seat BAE Systems Hawk T.2 its 'glass cockpit' avionics suite provides a realistic advanced fast jet training platform. The aircraft is designed to replicate the experience of flying frontline aircraft so that the students' transition to Typhoon and F-35 Lightning II is smoother. The computerised emulation system enables complex scenarios such as air to air combat and ground attack to be simulated in the air. Virtual opponents and ground threats can be created to test the student. A Typhoon 'download' enables the student to 'see' its combat systems earlier in their flying training and at a tenth of the cost of flying the Typhoon. UKMFTS is testament to the huge benefit and value derived from successfully run commercial contracts. Ascent works in partnership with the MOD and its purpose is to deliver world-class flying training to the UK Armed Forces.

By awarding PFI contracts the MoD are bringing in investment technology and innovation, "It's more about value for money than cost saving", explained Al Shinner. "We do more flying training here than we once did now including elements of the training previously done on the Typhoon". Students following their synthetic training arrive at the Typhoon conversion unit far better equipped to fly it than they ever did before. At the heart of the UKMFTS programme remains a military ethos in terms of training delivery; Ascent civilian and military instructors work alongside each other in seamless partnership to deliver optimized air- and ground-based training. Ascent are really working behind the scenes, pilots at RAF Valley fly as 4(Reserve) Squadron which has its own Wing Commander in charge. "We are in the background we just enable everything to happen, the students come to a military squadron to do military training", says Al Shinner. The flying instructors are still in the RAF, the ground instructors on the simulators are with Ascent but they still where flying suits with squadron badges. They are all assessed to the same standards set by the RAF's Central Flying School. As use of the simulators forms a key part of the syllabus, it is important that ground and flying instruction is to the same standard.

Fast Jet training at RAF Valley is one element of the vast UKMFTS programme delivered by the MOD and Ascent, which is set to include Fixed Wing, Rotary Wing and Rear Crew Training, with all elements of the world-class training programme due to be fully operational by 2019.

With more modern aircraft on order such as the Beechcraft T-6 Texan II to replace the aging Shorts Tucano T.1 and will operate from RAF Valley next year, even more value for money flying training will be provided by Ascent. "There is a massive interest in what we are now providing from air forces right across the world..everyone has come here to see what we are doing", says Al Shinner.