End of an era for the Nimrod
The maritime reconnaissance variant of the Nimrod MR2 was withdrawn from service on March 31, 2010 and its planned replacement the Nimrod MRA4 was cancelled under the Government's cost saving Strategic and Defence and Security Review (SDSR) announced in October 2010.

Only two R1s remained in service during the Nimrod's final year (XW664 and XV249). A third Nimrod R.1 (XW665) had already been withdrawn and put into storage at RAF Waddington late in 2009. XV249 had flown its last operational sortie from RAF Waddington on June 9. It was not until June 24 that XW664 returned to its home base for decommissioning, within days of its return its highly secretive equipment and sensitive data had been removed from the aircraft.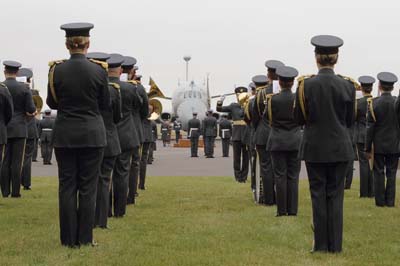 Today for the first time journalists and the families of past and present aircrew were allowed in a Nimrod R.1 (XW664) and were authorised to take photographs inside the aircraft. Following the parade a queue formed and for the next couple of hours hundreds of guests made their way through the aircraft. 51 Squadron aircrew were on-hand apparently ready to receive questions from those interested to find out more about the activities of the aircraft over the last 37 years. What the aircrew were not ready to do was answer any of them! They remained very tight-lipped to many of the questions the invited media threw at them. Flight Sergeant 'Stan' Stansbury was able however to describe his job in the Nimrod as one of signals intercept and data processing. He pointed to his position on the aircraft, there was a computer screen keyboard and roller-ball mouse and unlike most other stations in the cramp fuselage he had a forward facing window seat adjacent to the wing. Since 2006 he had done numerous five or six week tours to Afghanistan. He was proud of his achievements; "We made a difference, it was a positive contribution to saving lives on the ground. We had regular feedback from our ground forces we also received requests or taskings on a daily basis for a specific operation for which we would provide coverage." When asked if could describe any of the taskings. "No" was his firm answer, "I am sorry but I can't go into any detail." "Did you provide 24 hour coverage?" "No that was the only thing they didn't have, they would have loved us to. We were either limited by personnel hours or by aircraft hours." Flt Sgt Stansbury explained that he was unable to go in any detail into the capabilities of the R1 saying that despite its retirement systems with similar capabilities will be carried forward to other aircraft. He did comment on the Taliban describing them as; ."a very, very intelligent adversary, they pick up on things quickly, it was a game of cat and mouse."

An aircraft with an illustrious history

The Nimrod's development can be traced back to the de Havilland Comet 4C the first jet engine passenger airliner. In 1963, to replace the Avro Shackleton, Hawker Siddeley (formally de Havilland) were asked to develop a new Maritime Patrol Aircraft (MPA). The first Nimrod a converted Comet 4C flew in 1967 and two years later the first of 38 Nimrod MR1s entered service. As a replacement for the aging Comet R.2, three Nimrod R.1s were ordered in 1969 for electronic reconnaissance duties. Essentially the same as the Nimrod MR1 but without the Magnetic Anomaly Detector tail boom it also had blanked out windows and basically empty aircraft were delivered to RAF Wyton for fitting out. XW664 was first to be delivered to 51 Squadron on July 8, 1971. XW665 and XW666 followed in 1974.
Throughout the Cold War (1945 to 1991) both East and West listened to opposing electronic communications to gather intelligence on each other's military activities. The Nimrod R.1 was very well equipped to carry out its secretive Electronic Intelligence (ELINT) gathering role. Before the warming of relations between the Allies and the Soviet Union the Nimrod R.1 had also gathered intelligence during the Falklands Campaign in 1982 from what is still a classified forward operation base, but believed to be in Chile. The aircraft played a vital role during the first Gulf War when in 1990 after Iraq had invaded Kuwait it operated from RAF Akrotiri in Cyprus. During the Yugoslav Wars and the Kosovo War the Nimrod R.1 was deployed to Italy. During this time 51 Squadron were awarded the Battle Honour 'Kosovo 1999' for their outstanding service in helping end the mass ethnic cleansing by the Serbs and making way for the formation of independent states.

In April 1995 51 Squadron moved to their present home of RAF Waddington after 32 years in residence at RAF Wyton. Weeks later Nimrod R.1 XW666 following a major service at RAF Kinloss during an air-test caught fire and the pilot was forced to ditch in the Moray Firth where the seven man crew were all rescued. With only two remaining R1s an Nimrod MR2 (XV249) was converted under Project Anneka to the R1 standard. It was stripped of its Anti-Submarine Warfare (ASW) equipment at BAE Woodford and ferried to RAF Waddington to the Electronic Warfare and Avionics Detachment (EWAD) in December 1996 for the installation of the mission systems. In 1997 XV249 flew for the first time as a Nimrod R.1.
In 2000 a £100 million contract was awarded to Raytheon Strategic Systems for a new electronic warfare collection system known as 'Extract' to be fitted to all three Nimrod R.1s. By April 2003 the first upgraded aircraft was back in service.
Following the Al-Qaeda '911' attacks on the United States the Bush Administration backed by the British Government commenced war in Afghanistan in October 2001 under the codename Operation Enduring Freedom to oust the local Taliban who were offering a safe haven for Al-Qaeda. In 2003 following reports of weapons of mass destruction in Iraq a multi-national military campaign was launched under codename Iraqi Freedom against the Sadam Hussein regime. Once again 51 Squadron were called forward to provide support in the Gulf, they were awarded the battle honour 'Iraq 2003' in recognition of their contribution.
The Nimrod R.1 was to continue to serve the military forces in Afghanistan as part of the NATO-led International Security Assistance Force (ISAF) until its out-of-service date of March 31, 2011 which had been announced back in 2008. However with the troubles in Libya breaking out weeks before its planned retirement it was announced on March 11 that the Nimrod R.1s life be extended by three months so that it could assist NATO forces. It was deployed to RAF Akrotiri in Cyprus on March 16 in support of Operation Ellamy.

51 Squadron have already started to train on the Nimrod's replacement
The replacement for the Nimrod R.1 is sometime away from entering service. The Boeing RC-135W Rivet Joint electronic intelligence-gathering aircraft has been selected. The first 'Air Seeker' as it has been named should be in service with 51 Squadron in 2014 and the third by 2018. Three former USAF Boeing KC-135R Stratotankers (ZZ664 ex 64-14833, ZZ665 ex 64-14838 and ZZ666 ex 64-14830) are currently being converted by prime contractor L-3 Communications' at their Greenville site in Texas to the Rivit Joint configuration. 51 Squadron crews have already begun training on Rivet Joint with the US Air Force arriving at 55th Wing at Offutt Air Force Base, Nebraska, on January 11. RAF crews should be 'co-manning' operations on the aircraft up until their own RC-135W Air Seeker's are in service.
It was apparent at RAF Waddington that crews believed strongly that they had fulfilled a very worth role with the Nimrod R.1 and could not wait for the Rivit Joint or Air Seeker to be put into service as the new eyes and ears of the RAF.

Nimrod R.1 XW664 is scheduled for delivery to the East Midlands Aeropark and XV249 is to have a new home at the Imperial War Museum at Duxford.