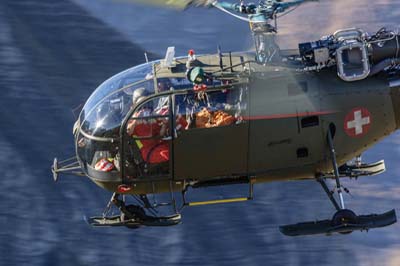 The Swiss Air Force's annual air power demonstration was notable this year for the participation of a foreign air force for the first time. French Air Force Mirage F.1s based at Reims-Champagne were on a squadron exchange at Payerne, French and Swiss Air Force pilots having the opportunity to pilot each others aircraft during the air power demonstration. Two Dassault Mirage F.1CR's flew sorties at extreme low-level through the valley to the delight of regular attendees of Axalp.

As usual the two day show was action packed, rewarding the many spectators each day who made the strenuous climb with spectacular flying and truly unique photo opportunities. This year, as was last year, an estimated that 2,000 attended the show on the Wednesday with around 1,000 on the second day.

Left and right: Aérospatiale SA.316B Alouette III (V-257) photographing us photographing them.