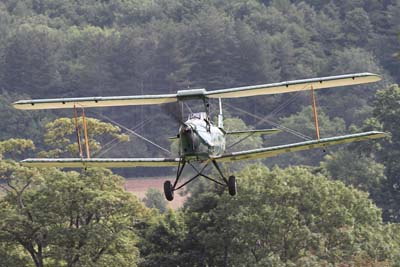 The Duke and Duchess of Rutland should be congratulated for making their estate available for the de Havilland Moth Club to hold its 29th International Moth Rally. This is the first time the DH Moth Club has been to the recently created grass airstrip on the Belvoir Castle estate. The meeting commemorated the 80th anniversary of the maiden flight of a de Havilland DH.82 Tiger Moth, which flew from the Stag Lane Aerodrome on October 26, 1931. Over 50 Tiger Moths attended over the weekend with another 20 de Havilland variants, such as the DH.60 Moth, DH.80 Puss Moth, DH.82 Queen Bee, DH.85 Leopard Moth, DH.87 Hornet Moth with and a DH.89 Dragon Rapide and DH.90 Dragon Fly. A further 15 DHC.1 Chipmunks and ten other guest aircraft made up the cast of one of this year's most impressive gathering of classic aircraft.
Saturday was used as an arrivals day for most of the weekend's attendees and enabled aircrew to meet old friends and discuss their highly prized aircraft. I overheard an American discuss with a Moth owner the DH.60s exhaust fitting, helping him to progress his own Moth renovation back home.
Sunday morning a few more Moths arrived in time for the afternoon's two hour air display. Prizes were later awarded by the DH Moth Club and presented to aircraft pilot owners by Henrietta, Duchess of Bedford (Woburn Abbey) and His Grace the Duke of Rutland (Belvoir Castle).
Pilots that I spoke to were all happy with the new venue, most of which had attended many of the meetings previously held at Woburn Abbey. The number of spectators however appeared to be well down on those that usually attended the very popular Woburn Abbey meetings. With the positive publicity following the event I would expect many more people to attend next year's anticipated event.