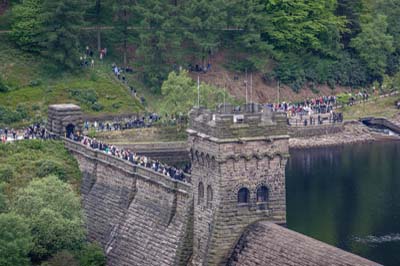 Today the RAF's Battle of Britain Memorial Flight's (BBMF) Avro Lancaster flew low over the Derwent Dam in Derbyshire to commemorate the 65th Anniversary of the Dambuster raid.
The Dambuster raid of 1943 must surely be the most famous of all low-level sorties. 617 Squadron was formed during World War II for one specific mission, to fly deep into Germany and destroy the Mohne, Eder and Sorpe dams in the Ruhr valley. Their weapon was the ingenious 'bouncing bomb' which was designed and perfected by Sir Barnes Wallis over three years. Two of the dams were breached in the raid on May 16, but at a cost of eight Lancaster bombers and a tragic loss of 53 crew members. The Derwent Dam was used by 617 Squadron to train for the top secret mission code named Operation Chastise in 1943.
Sqn Ldr Les Munro, now 89 and the last surviving Dambuster pilot, attended the ceremony with Michael Gibson, the nephew of Wing Cdr Guy Gibson who led the mission which ultimately cost him his life. Actor Richard Todd now 88 who played the part of Gibson in the 1954 film 'Dambusters' was also in attendance.
At 10:30 the last Lancaster still flying in the United Kingdom appeared from the north flying at just 100 feet above the water, firstly over Howden Dam, two miles north before straightening up for its 'bomb' run over Derwent Dam. In 1943 the force of 19 Lancaster bombers flew the entire mission at 150 feet from RAF Scampton before descending to just 60 feet (18m) to drop their spinning barrel shaped bombs. The 'bouncing' bombs skipped over the water before hitting the dam wall and dropping to its base before exploding at a set depth.