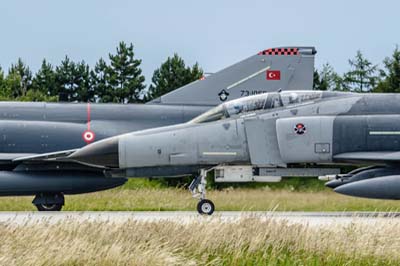 As there is insufficient space for all aircraft involved only 80% of the aircraft fly from Lechfeld air base. Nations flying from Tornado air base at Lechfeld this year were; United Kingdom (Tornado GR.4), Greece (F-16), Norway (Falcon 20ECM), Italy (Tornado ECR), Turkey (F-4 and F-16), Poland (Su-22) and Romania (MiG-21 LanceR). The GAF were flying Tornado ECM and IDS.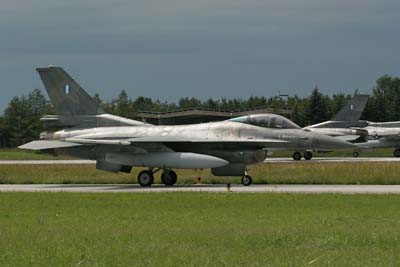 Manching, as in recent years, was used by the Swiss Air Force (F/A-18 and F-5F) and by some of the aircraft used for electronic counter-measures. In total 45 jet aircraft, 15 helicopters with 13 transport and support aircraft took part. Some aircraft were flying from their home bases, including GAF Eurofighter Typhoons, which were participating for the first time, were flying Neuburg, which is only ten minutes extra flying time from the exercise area. Also participating were French Air Force Mirage 2000Ds from Nancy, Tornado IDS from Nörvenich and Büchel and NATO E-3As from Geilenkirchen. A considerable amount of ground forces play their part in the exercise. 1,500 soldiers are at the air bases with 1,000 at the Heuberg range utilising 200 vehicles ten of which are tracked.
Although the main purpose of the exercise is the Suppression of Enemy Air Defence (SEAD), for added realism there is a Combined Air Operations (COMAO) element. The COMAO's often consisted of between 15 and 30 aircraft. The air-to-air threats are only used on the way to the range for both the morning and afternoon missions, and not used on their return. Chaff and flares are dispensed, but no live weapons are used during the 1 to 1½ hour sorties.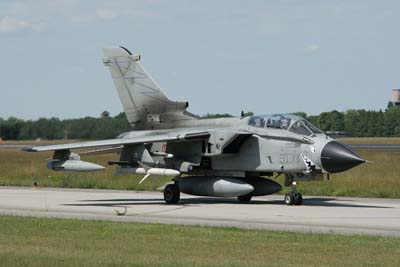 Pilots usually flew once a day in either the morning or afternoon wave, giving them each ten missions over the two weeks. Participating air forces brought around 2½ pilots per aircraft to allow for two missions a day, sickness and for pilot planning on the ground. To increase pilot flying experience, a Guest Flight Program is operated to allow pilots to fly aircraft from other nations. It was limited to around two or three guest rides per nation, which included Germany. Left: Italian AF Tornado ECR (MM7062 '50-44').