A Trio of Flying Fortress's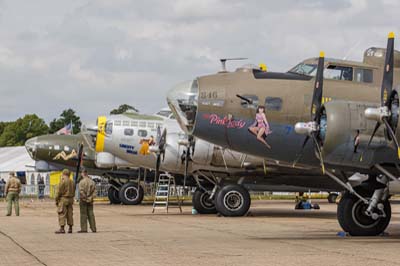 One of the most remarkable Legends debutantes and air show headliner was the Liberty Foundation's Boeing B-17G Flying Fortress named Liberty Belle. This World War Two bomber had followed the same route across the Atlantic as thousands of aircraft had over 60 years ago to attend. For 22 flying hours over four days the 7,800 mile journey took them from Atlanta via Bangor, to Goose Bay, Narsarsuaq in Greenland, Reykjavik in Iceland and on to Prestwick in Scotland. Curiously from Prestwick they flew to the small Hebridean island of Islay, off the coast of Scotland, to enable a crew member to meet with some family and friends who were generously taken on some local flights.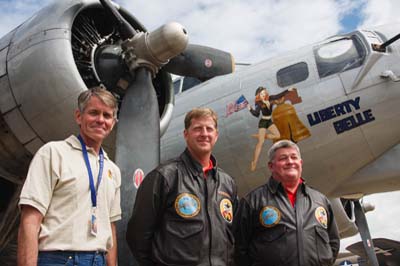 Don Brooks, Liberty Belle's owner helped pilot the former wartime bomber along with chief pilot Ray Fowler. Don had always dreamed of owning a B-17 as his father, Elton Brooks, had been a tail-gunner in the original Liberty Belle (42-97849) flying 39 missions from Framlingham airfield in East Anglia when assigned to the 390th Bomb Group which was part of the 8th Air force.
The B-17s restoration from 1990 and 2004 which cost $3 million only the start the many challenges associated with keeping a 63 year old warbird in the air. Currently her cost per flight hour is $3,000 and to fund this in the United States Liberty Belle flies to a different city each week for displays, while offering up to nine seats at $450 each for a unique 30 minute experience flight. Although based in Douglas, Georgia she has not flown from there for the last 18 months.
Don has been involved in a number of projects and recoveries of warbirds over the years. Recently he recovered a Flying Fortress from Dyke Lake in Labrador which he hopes to restore and fly in ten years time.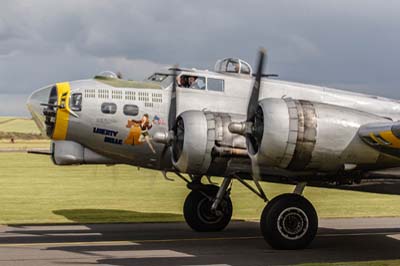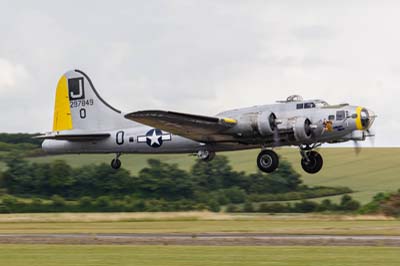 The latest Liberty Belle is the former 44-85734 now N390TH which was built in May 1945 at Burbank California but immediately went in to storage and did not see active service. In 1947 it was sold to Pratt & Whitney becoming N5111N and was fitted with a 5th engine as a turboprop test bed. In 1967 it was finally retired and donated to the New England Air Museum. Following a tornado in 1979 the badly damaged B-17 was restored by Tom Reilly at Kissimmee, Florida before the Liberty Foundation took over control in 2000. More than 12,000 B-17s were built and today only 14 are currently in flying order.
Unfortunately Elly Sallingboe's B-17 Flying Fortress 'Sally B' operated by the B-17 Preservation was unable to take to the skies due to the recent failure of a replacement engine, never-the-less it was exciting to see the French based B-17G 'Pink Lady' join 'Liberty Belle' in a wonderful series of formation fly-pasts. What a pity that 'Sally B' was unable to make a flying trio of B-17s, just after overcoming problems with EU insurance regulations and receiving generous donations from Sir Richard Branson and the 'Sally B Supporters Club' It is hoped that she will be flying later in the year.

See IWM Duxford for more details of future events.