The Photography
La Ferté-Alais welcomes visitors all year round; the Pentecost show is the main activity of the year when most of the extensive collection is flown. Accessed by a now widened winding road to the top of the L'Ardenet plateau, the airfield is a place of beauty. It is still surrounded by vast wooded areas, and it's wide grass runway is roughly east to west. The runway long crowd line is positioned close to the action on the south side. With the sun behind you and the close proximity of the aircraft, photography is very good. The display aircraft are mostly positioned south side at the eastern end by the hangars and museum in a series of well-spaced rows. The clever bit here is that spectators are free to roam up avenues in between the aircraft rows to get those close in shots. Even the aircraft parked across the other side of the access way to the runway are within easy reach of small telephoto lenses.
The flying is close but can appear a little tame at times, as many of the classic aircraft are not all high performance warbirds. This is what I like however, being able to photograph mostly French civilian and ex military aircraft in their element, flying from one of the most attractive grass airfields there is.

I found that a 100-400mm zoom lens more than adequate for the flying shots. As 99% of the action involves propellers it is important to keep the shutter speeds low 1/60th to 1/125th is what I used for this show. I have added my settings to some of the image captions for guidance. You must be prepared to bin quite a few shots using these slow shutter speeds as it is difficult to pan perfectly (well for me it is!) each time. The resulting blurred background emphasizes speed very nicely.
Last year I noted that running down the length of the crowd line there was a red and white tape a meter high which obstructed shots of the aircraft. I am pleased to report that for this year it had been reduced to just a few inches high, well done to the orgainsers.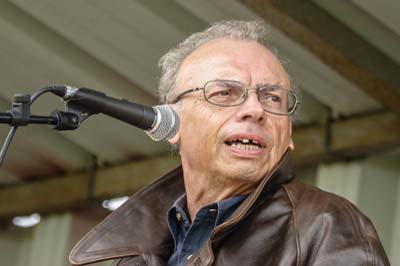 Bernard Chabbert (left); The very eloquent french commentator who speaks in a flying poetry.

For most of the show I was using my Canon EOS 20D and EF 100-400mm f4/5.6 L IS lens.