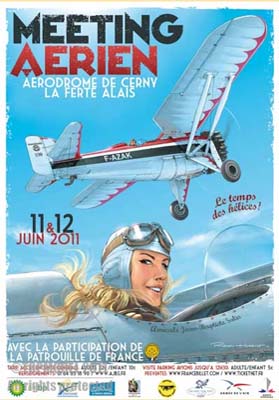 The Association Jean-Baptiste Salis (AJBS) held its 39th Meeting Aerien (air show) at the tree lined plateau that is Cerny airfield at La Ferté-Alais. Thousands of enthusiasts lined the full length of the grass landing strip to see a full range of aircraft from the Blériot to the latest military jets with a predominantly French flavour.

The air show is described as Le Temps des Hélices (The time of the propellers) and as such is one of the best in Europe, only Flying Legends at Duxford is able to match this wonderful event. Traditionally the meeting is held on the weekend of Pentecost or Whit Sunday, which can be end of May or up to mid June. However they organisers don't live up to their 'Le Temps des Hélices' billing as a number of military jets are invited to perform. For me is a disappointment, I like fast jets very much but the Cerny airfield is a place where they just don't belong. The airfield has a long history of historic propeller driven aircraft, the ear-shattering Rafales, Super Etendard and the Patrouille de France disturbed the ambience of the event. To show my obvious inconsistency I have turned a 'blind eye' to the Morane 760 Paris which was part of the 100th anniversary of Morane-Saulnier, which as it happens was not nearly as fast and loud. AJBS are soon forgiven of course, the simulated dogfights, formation and individual displays and aerobatics by the rare old aircraft and all in close proximity to our cameras means you come away with some great images and wonderful memories.

More than just an air show
For me this is not just a warbird and vintage aircraft air show with a French flavour, it is one of my favourite locations since I first 'discovered' the airfield back in 1975. At that time many of the aircraft were locked away, the vast museum hangar was yet to be built. I remember a line up of around twenty AT-6 Texans which had recently been recovered from a airfield dump. Many of these Texans were eventually restored to flying condition, while a few lingered in the trees nearby. AJBS is a charity, combined with the Salis Aviation Company has a history of recovering old and rare aircraft and lovingly restoring them in their workshops. It is based on a team of dedicated lovers of aircraft who devote much of their spare time to keeping the organisation going.

Situated 30 miles (50Km) south of Paris, the airfield of La Ferté-Alais was built by one of France's most famous aviators, Jean-Baptiste Salis (J-BS) at the start of World War II. Years later AJBS was first formed in the mid 1960s as a living museum, the Association progressed further with Jean Salis, Jean-Baptiste's son from the 1970s. AJBS is now a collection of around 75 vintage and replica aircraft, which are mostly preserved in flying condition. The aircraft are frequently used in the making of movies and most are flown at the annual Pentecost air meeting, using Association's numerous members and skilled volunteers. AJBS comprises 300 members of those, about 60 work through each week and at weekends to keep around 30 historic aircraft flying.

Jean-Baptiste Salis - French Aviator
Born in 1896, at the age of 16 he learns to fly and quickly becomes France's youngest pilot. In 1915 he joined the French Army and becomes an explosives expert. By 1917 he realises his destiny and joins the first French Air Force squadron as an instructor. By the end of the War he had flown 1900 hours but had frequently broke military rules by taking 'unnecessary risks' in performing aerobatics. After the war J-BS bought a number of surplus military aircraft and formed his own flying school by 1921 at Chambery and also at Chamonix. In 1927 J-BS formed the world's first aerobatics team the 'La Patrouille Tricolore'. In 1929 he begins his long association with the movie industry and starts flying for the cameras.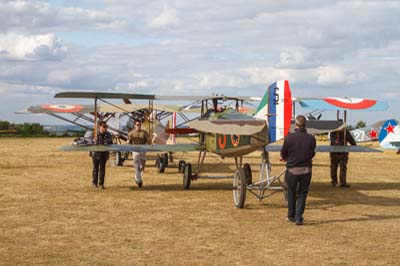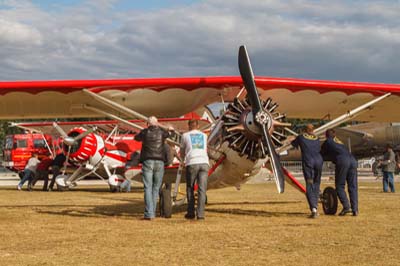 During the Spanish Civil War (1936-37) the French Air Ministry asks him to carry out a mission in a Dewotine. By 1938 J-BS is working under cover for the French Ministry. In 1939 he buys a farm at Cerny near La Ferté-Alais and signs a contract with the Ministry to train pilots for the French Air Force, and work starts in constructing the airfield. However at the start of the World War Two all of J-BS equipment at Cerny and elsewhere is requisitioned by the French and destroyed (including many collectable aircraft) to prevent it falling into German hands. The Luftwaffe had already asked J-BS to assist them, but had refused and had 'escaped' to La Ferté-Alais. Here J-BS contacts British Special Operations Executive to offer his airfield for clandestine activities. The airfield is approved and given the code name 'Biniou' (a french bagpipe) and equipment is frequently dropped by parachute for the French Resistance. As part of his cover, he buys a sawmill in La Ferté-Alais enabling him to move freely around the heavily wooded areas around his airfield. At the end of the war he is awarded the Military Cross and begins to prepare the airfield for flying. Later he will rebuild the workshops and start to restore aircraft for his museum. One of the first projects was an original Blériot XI, which is still flying today. He subsequently flew it in 1955 across the Channel to commemorate the 50th anniversary of the first crossing. Up until his death in 1967 J-BS was working with his son Jean (now 69) to rebuild aircraft for their own Association/Memorial Squadron and also constructing replica aircraft for the movie industry. Films using La Ferté-Alais and its aircraft include; Steven Spielberg's 'Empire of the Sun' and 'Indiana Jones' in a list of almost 150 movies filmed since 1960. In 1970 the first airshow is organised at Cerny. Throughout the 1970s the airfield is further developed and the large museum hangar constructed in 1977 to house the ever increasing and evolving collection of classic vintage aircraft.

For a more complete history of Jean-Baptiste Salis his son Jean and their aircraft please visit their excellent website Click.