Polly Vacher MBE is a very remarkable lady, a mother of three children at 50 when she learned to fly. By 60 she had flown solo around the World twice, landing on all seven continents. On July 31 Polly completed her tour of all the major airfields of Great Britain when she landed at Kidlington, Oxford. To visit 221 airfields Polly had flown 19,000 nautical miles in 158 hours and of the 163 passengers carried, 96 were disabled. Polly raised £40,000 for the Flying Scholarships for the Disabled (FSD) charity.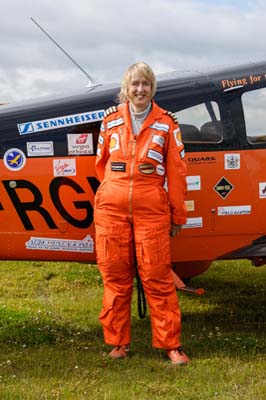 Polly to date has many other flying achievements and records;
From January to May 2001, Polly flew the smallest aircraft to be flown solo around the world by a woman via Australia and across the Pacific.
From July to August 1997 Polly flew her first Trans Atlantic Solo flight. With 500 hours and a newly acquired instrument rating, she flew solo across the North Atlantic to Boston and back in her single engine Piper Dakota.
From May 6, 2003 to April 27, 2004 'Wings Around the World' II (Voyage to the Ice), Polly flew 60,000 nautical miles in 357 days and raised £320,000 for FSD.
- First woman to fly solo over the North Pole in a single engine aircraft,
- First woman to fly solo in Antarctica in a single engine aircraft,
- First person to fly solo around the world landing on all seven continents.

She clearly loves flying, but her drive is not solely for fun. Her considerable flying achievements are designed to increase awareness and raise money for the 'Flying Scholarships for the Disabled' (FSD) charity. The FSD is a scheme whereby disabled people can rebuild their confidence by learning to fly. The six-week residential courses are totally free and provide 40 hours of dual and solo flying. Flight training currently takes place at flight schools in South Africa and in the USA.

Polly's book 'Wings Around the World' details her record breaking Solo Polar Flight. Her royalties and fees are going direct to FSD as is a percentage of the publisher's profits.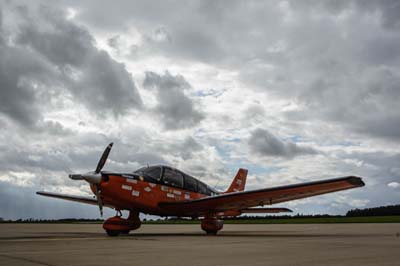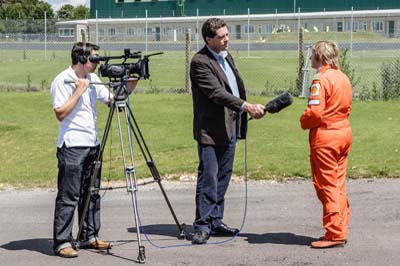 Currently Polly is on another marathon fund raising tour, 'Wings Around Britain'. This time her aim is to fly solo and land at every airfield in Britain using the Jeppesen VFR Manual. Jeppesen are one of her much valued and generous sponsors. She will be using Jeppesen VFR+GPS Enroute Charts and a Tablet PC provided by The Tablet Store and PaceBlade Technologies. This tablet PC will contain Jeppesen's electronic IFR & VFR charting solution JeppView 3.5. So where do I come into all of this? Working for one of her many sponsors I was asked to capture just part of the tour, I covered the journey from RAF Wittering to Wickenby airfield in Lincolnshire. These two airfields are number 161 and 162 for Polly of a total of 221 airfields listed in the Jeppesen VFR Manual to be visited. My first challenge was to get on base at Wittering to meet up with Polly. It was Friday July 6 at 17:00 and Sqn Ldr Mich' Webb had agreed to meet me at the gate to take me out to Polly's aircraft, parked on a very deserted Harrier ramp. Today had been a family's day at Wittering and by the time I got on base everyone had gone home. Polly, dressed in her familiar orange flying suit, quickly made me feel at ease. I was welcomed in to her flying office, a Piper PA-28 Cherokee Dakota painted in orange and black (for the polar flights) and adorned with sponsors names and logos. We discussed where I would like to sit. I elected to go in the back, to have access to windows on both sides of the aircraft. I had been told that for this leg aircraft of the Battle of Britain Memorial Flight (BBMF) would be escorting us to Wickenby. To say I was excited would be an understatement, but almost immediately on meeting Polly, she said that the BBMF would not be able to make it, due to strong winds. I was gutted, hopefully I did not show my disappointment. However, a short while later her well used mobile phone rang out. It was Al Pinner of BBMF at RAF Coningsby. The winds looked like they were dropping and we should make our way up to their home base.