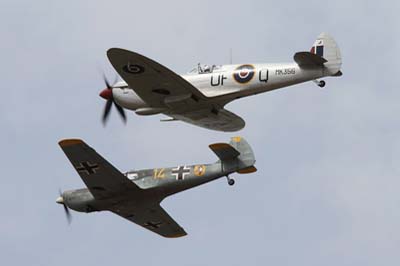 The action-packed eight hour flying display was not all about one aircraft, a multi-national flypast of veteran World War Two warbirds was to commemorate the 70th anniversary of the Battle of Britain. The twelve strong mixed formation comprised of Spitfires, Hurricanes and three Messerschmitt types (Bf109, Hispano HA-1112 and Nord 1002/Me108 Taifun). The relatively sedate three-ship formation passes and heart-warming sounds of the 70 year old piston engines, contrasted well with the high-powered fast-jet displays that roared around the Gloucestershire skies.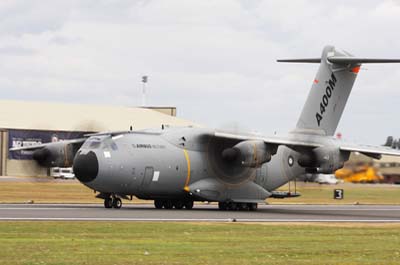 The Royal Air Force's future transport the Airbus A400M was making its first UK public appearance and gave a very impressive flying routine, this contrasted with the jet-powered C-17A Globemaster III from Altus AFB.
It was not just a day for the fighters, three of the world's most famous bombers all were flown; the Battle of Britain Memorial Flight's (BBMF) Lancaster, The Vulcan To The Sky Trust's Vulcan and a USAF's B-52H Stratofortress.
Three RIAT regular performing displays teams, the Patrouille Suisse, Patrouille de France and the Red Arrows commanded the attention of the appreciative crowd. A close formation display team with smoke will always keep the party going and are a fitting way to close the show.
Despite being stretched more than any other time since the Battle of Britain the RAF was able to demonstrate the contrasting performances of the Typhoon, Tornado, Harrier and Hawk.
It is remarkable that with miltary budget cuts and extensive operational commitments the organisers were able to put on such a large show with continuous flying throughout the day. Air Tattoo Chief Executive Tim Prince said: "We were delighted to welcome large crowds on both days, and I'm very proud of the Air Tattoo team for putting on another world-class event. The support we receive from the RAF, the USAF, sponsors, and air forces across the world is incredible and it is important that we recognise that fact. Without their help and support, there would be no Air Tattoo!"
This year the top award, the King Hussein Memorial Sword, for the Best Overall Flying Demonstration was awarded to Major Skalicky, flying the F-22 Raptor of the Raptor Demo Team, US Air Combat Command. The Friends of the Royal International Air Tattoo (FRIAT) members similarly gave their vote for the 'As the Crow Flies' Trophy to Major Skalicky.