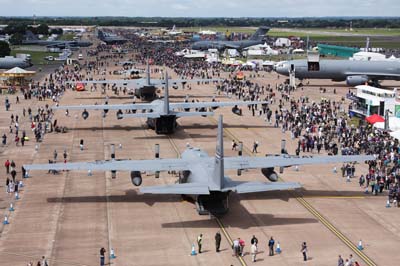 Philip Stevens reports: This year more than any other, it was important for the RIAT organisers to put on a successful show. Last year's event ended in huge disappointment, when the effects of poor weather could not be overcome and the weekend shows had to be cancelled for the first time in its 38 year history. Rain during the week had made the car parks unusable around the air base, resulting in a £4 million insurance payout with full refunds to all ticket buyers and traders.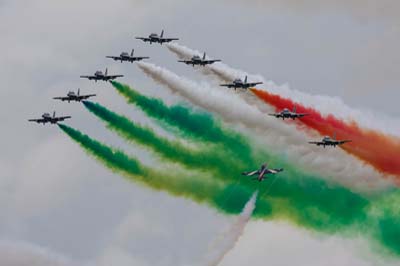 Taking no chances this year £200,000 was invested in improving the infrastructure of Fairford, including on-base parking, to ensure the event could survive the weather. Indeed Saturday and particularly Sunday was again not free of rain, but as is often written, the weather did not dampen the enthusiasm of the spectators.
I am pleased to say Air Tattoo Chief Executive Tim Price and his team was once again able to pull off a world class air show with a first ever sell-out crowd of over 160,000, that surely would have enjoyed of every minute of the action packed weekend. RIAT 2009 was flying display that included the Vulcan Operating Company's Avro Vulcan B2 (XH558/G-VLCN) which many would have paid the entrance fee alone, having missed the opportunity last year for a RIAT debut. 269 aircraft attended this year's show from 33 air arms and 22 countries, including Algeria for the first time, and so living up to its billing as the largest military air show in the world. In these troubled times there are considerable demands on many nation's forces, none the least for the United Kingdom The Royal Air Force were under represented when comparing their participation with previous years.
The Royal Navy Fleet Air Arm celebrating 100 years of Naval Aviation more than made up the numbers and were rewarded by the RIAT judges with the top prize, the King Hussein Memorial Sword for the Best Overall Flying Demonstration. The highlight of their display was the Royal Navy Balbo, a formation of almost 20 helicopters including Merlins, Lynx, Sea Kings and DHFS Squirrels. A fixed wing contingent consisted of Hawks in special '1909-2009 Fly Navy 100' and '100 Years of Naval Aviation' markings and Jetstreams from RNAS Culdrose with Naval Strike Wing (NSW) Harriers from Cottesmore. Also commended were the Royal Navy helicopter display team the 'Black Cats' with their synchronised flying of a pair of Westland Lynx.