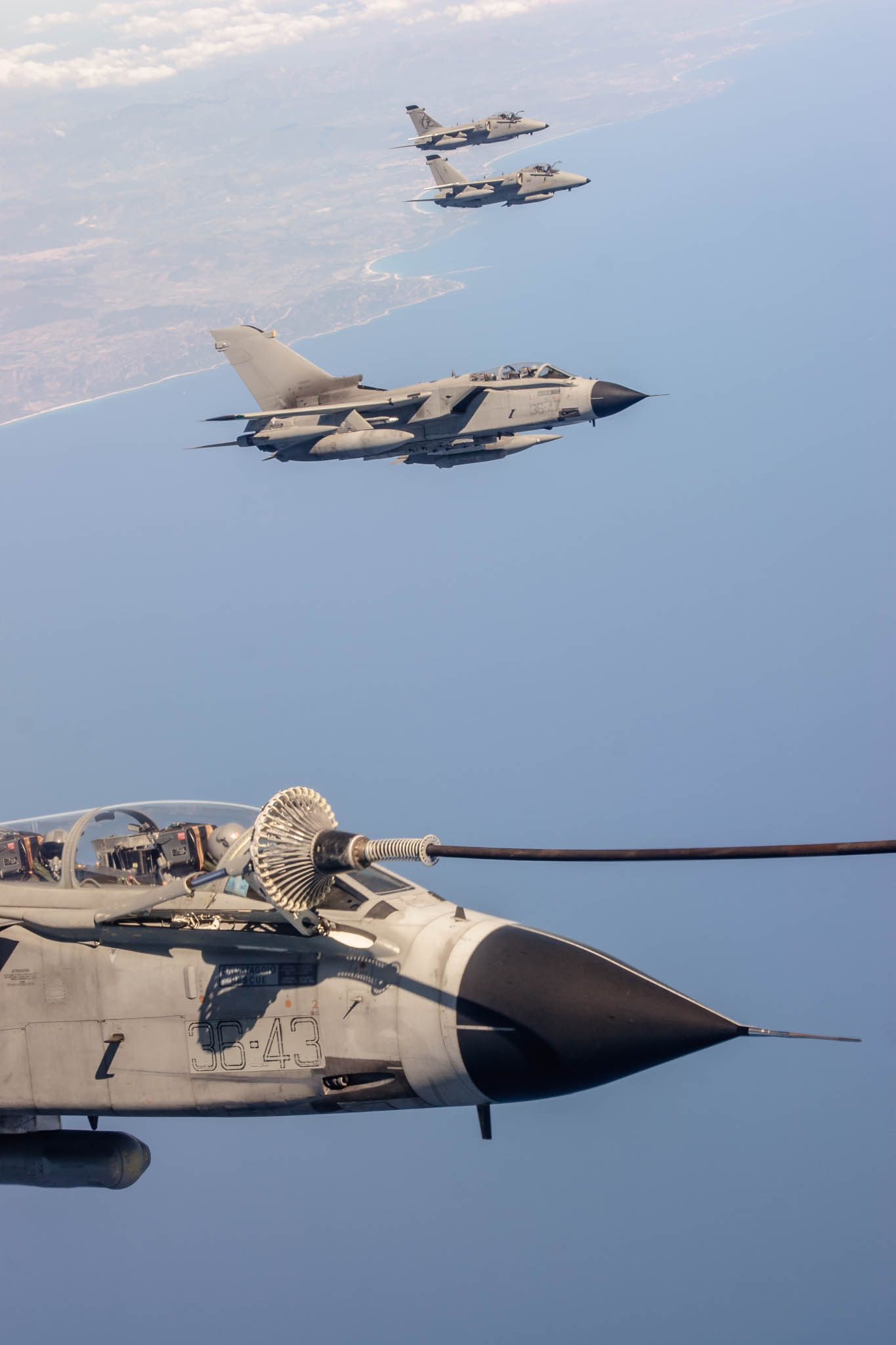 The deployment of the VC-10 had been planned a month earlier to supplement the Aeronautica Militare Italiana's own Boeing 707-373C air refuelling tankers of 14° Stormo, which were operating out of Pratica di Mare. Also a United States Air Force KC-135R Stratotanker of 100ARW from RAF Mildenhall was also on call from Trapani air base in Sicily. The VC-10s deployment was made on behalf of the still developing 'European Airlift Command' (EAC). This is where EAC members share resources for greater efficiency. By gaining hours or credit for missions undertaken, member states can cash in their credits to take advantage of another state's assets as and when required.

Following an Air-to-Air Refuelling (AAR) mission earlier in the day Flt. Lt. Paul Summers (Captain) and Flt. Lt. Phil Hird (Co-pilot) flew with their crew to Sardinia on Tuesday May 22. Accompanying the two pilots were, a navigator, flight engineer and load master. To keep the aircraft serviceable in the charge of the Engineering Executive were; a ground engineer and four other engineers. A package of spares, such as radios and engine parts, essential to keep the aircraft operational, were carried in the hold.

The first AAR mission for the VC-10 was scheduled for May 24, day four of 'Spring Flag'. This was to be a short mission, to dispense 9,000 Kgs of Jet-A fuel to two AMI Tornado and two AMX. Ready to go and just seconds before taxiing, the Air Traffic Controller announced, "your mission has been cancelled." With the poor sea state and high crosswinds, it was deemed too hazardous to continue with the afternoon's missions and flying was suspended. Last year at 'Spring Flag' two AMI F-16s collided and both pilots, who were forced to eject, were rescued from the sea.

On day five, and for the last of its daylight missions, the VC-10 (callsign 'Exxon 20') was loaded up with additional fuel for the scheduled four hour sortie. We were in position at 17,000 feet (5,182m) just 30 minutes after take-off, in Air-to-Air Refuelling Area (AARA) known as 'Sardo' which is north east of Sardinia. The refuelling 'trade' were two pairs (callsigns 'Legion' and 'Felix') of Tornado IDS of 6° from Ghedi and 36° Stormo from Gioia del Colle. The Tornados were flying with two 51° Stormo AMX (callsign 'Phoenix') on a mission to attack Trapani air base on Sicily. All six aircraft arrived in a short space of time, but were soon topped up with gas and on their way to the target.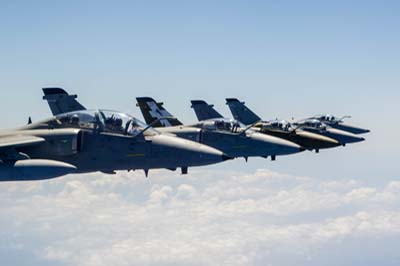 After a short transit south to AARA 'Mukka', VC-10 'Exxon 20' and descended to 14,000 feet (4267m) and were awaiting six AMX of 32° Stormo from Amendola and 51° Stormo from Istrana, using callsigns 'Fulmen' and 'Phoenix'. The three pairs of AMX were returning from the raid on Trapani and following refuelling elected to escort us home.

The 101 Squadron VC-10 was tasked with two night sorties in the final week of the exercise. Both missions were three hours in duration, with a total give of just 10,000 Kgs to two AMI Tornado on both occasions. Speaking to the crew, all sorties were successful apart from a problem with a switch on one of the two tow lines on mission two. There were some language barriers with the local Air Traffic Control, which made it quite hard to co-ordinate all of the aircraft around their tanker to avoid possible collisions from occurring.